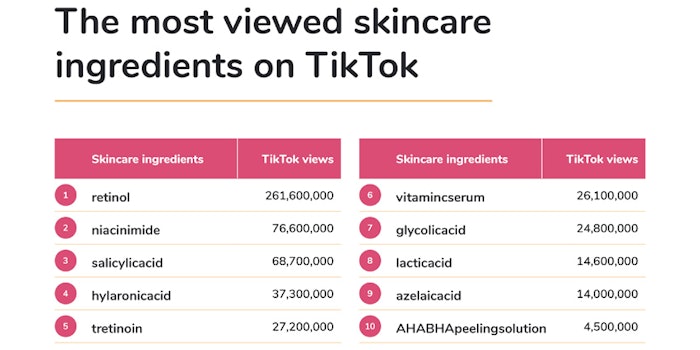 A study from Money has analyzed 750 Tik Tok videos from 50 of the platforms' top skin-fluencers to determine their influence on skin care. 
Related: Revieve x Babor Launch AI Skin Care Advisor
The study found that half of the skin-fluencers had skin care qualifications, such as being trained in dermatology. However, those skin-fluencers with no skin-care-related qualifications have on average 39% more followers and 217% more "likes" than skin-fluencers that have qualifications. 
Skin care is a popular topic on Tik Tok, with the hashtag #DIYfacemask having 104.1 million views. The top five topics under that hashtag with the most views include:
AvacadoMask

TurmericMask

HoneyMask

ChocolateFaceMask

GingerFaceMask
The top five most viewed skin care ingredients on Tik Tok include:
Retinol

Niacinimide

Salicylic acid

Hylaronic acid

Tretinoin
Jason Thomson M.D., head of medical, and Malvina Cunningham M.D., consultant dermatologist from online dermatology service, Skin+Me, said: "The dermatology and skin care communities have recognized that there's a problem with lots of misinformation and bad advice being shared on social media. But at the same time, there's also some fantastic content out there created by professionals who truly are skin care experts."