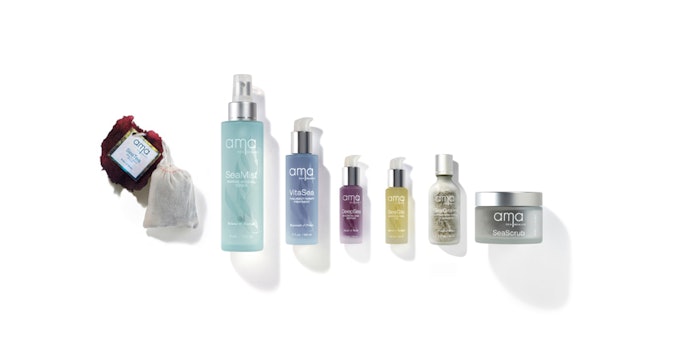 Ama Sea Beauty has launched its thalassotherapy- and marine-based skin care line. The brand uses a sea beauty blend that includes wild, California-grown, nutrient-rich seaweeds that are sun dried to preserve their mineral content.

Related: Visha Skincare Available on Thirteen Lune
Other ingredients include alginate, brown seaweed, butterfly pea flower, chlorella, matcha, microalgae oil and spirulina. 
Products from the brand include cleansers, oils, serums, scrubs, toners and bath bags. 
Ama Sea Beauty was founded by Antoinette Marquez, an ocean farmer, climate activist, seaweed specialist and thalassotherapist who runs a 25-acre conservation sea plot off Santa Barbara, California.
Ingredients (DeepSea Microalgae Serum): Water (Aqua), Mazzaella Splendens Extract, Macrocystis Pyrifera Extract, Chondrus Chrispus Extract, Algin, Phenathyl Alcohol, Fragrance (Parfum), Benzyl Alcohol, Benzoic Acid, Sorbic Acid. Naturally tinted with Clitoria ternatea flower (butterfly pea flower).