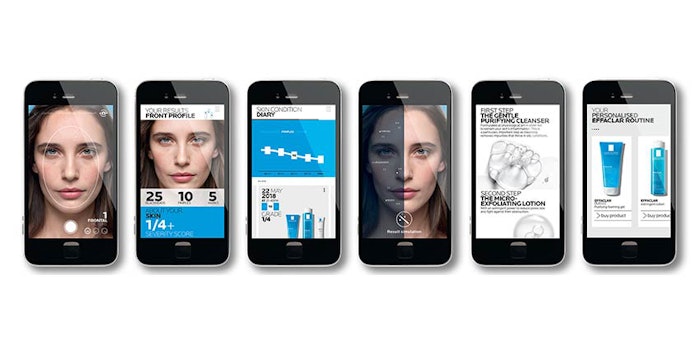 La Roche-Posay has launched Effaclar Spotscan, an innovation which uses artificial intelligence to offer personalized acne analyses, in Canada.
To build the algorithm, La Roche-Posay had dermatologists from around the world analyze more than 6,000 images of people of different ethnicities, genders, skin types and levels of acne severity. Effaclar Spotscan's instant analysis provides the user with an acne score between 0 and 4+; it then outlines a personalized Effaclar routine and specific skin care tips.
Related: L'Oréal Acquires Logocos Naturkosmetik and Société des Thermes de La Roche-Posay
Other features include a before/after skin improvement simulator and a Skin Diary, where consumers can track their skin's progress and evaluate their results via photos.
"Today consumers want more than just great skincare from a brand, they want an experience. Service has become the new-age product," Emma Kindler, general manager, La Roche-Posay Canada. "We know that information is power when it comes to skin health and to improve their skin, consumers need to understand it. For acne sufferers, this means learning how to manage their acne, and it all starts with an accurate analysis. With Effaclar Spotscan we pursue our brand mission even further to create a better life for sensitive skin."