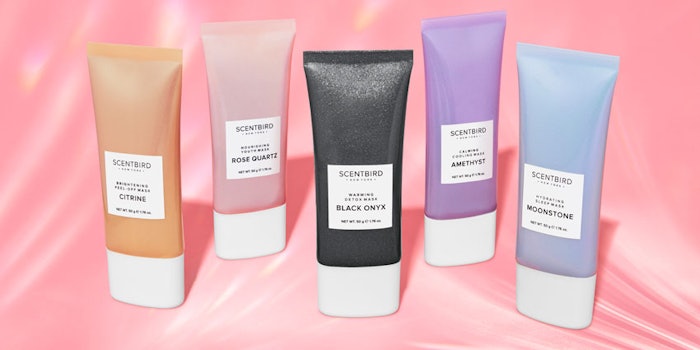 Scentbird has announced the launch of its Healing Crystal/Gemstone Collection.
The collection includes five masks inspired by rose quartz, amethyst, citrine, moonstone and black onyx. According to Scentbird, the masks harness the unique holistic properties of gemstones to soothe, refresh and revive the skin. 
The Healing Crystal/Gemstone Collection
Rose Quartz Nourishing Youth Mask: Meant to nourish the skin and minimize the appearance of fine lines and wrinkles. Key ingredients include rose quartz crystals, rosehip seed oil and honey.
Amethyst Calming Cooling Mask: Meant to calm skin and reduce inflammation. Key ingredients include amethyst, white tea and lavender flower water. 
Citrine Brightening Peel-Off Mask: Meant to revitalize dull, uneven skin. Key ingredients include citrine, turmeric and vitamin C.
Moonstone Hydrating Sleeping Mask: Meant to moisturize the skin and provide a "lit-from-within glow." Key ingredients include moonstone, hyaluronic acid and water lily.
Black Onyx Warming Detox Mask: Meant to detox the skin from dirt, oil and pollution. Key ingredients include black onyx crystals, black silt and night blooming jasmine.