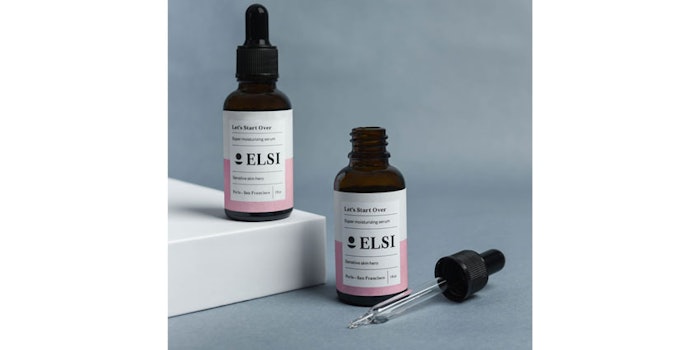 Elsi Beauty has partnered with Sekhmet Ventures, a venture capital firm focused on companies with science-based beauty and wellness products, for the development of a personalized product platform for consumers with sensitive skin. 
The partnership will reportedly provide seed capital and strategic counsel to ensure Elsi's future platform services as many customers as possible.
Elsi Beauty's personalized product platform is meant to assess data on a customer's skin profile, hormonal changes and environment to create a tailored subscription box of products, including moisturizers and cleansers.
The brand currently offers its Let's Start Over Super Moisturizing Serum, a three-ingredient moisturizing and soothing face oil for normal-dry skin types.
Barbara Paldus, founding partner, Sekhmet Ventures, said, "Elsi Beauty understands that the future of skin care is grounded in robust science and that large portions of the beauty market—in this instance, customers with sensitive skin—still harbor significant unmet needs. We're excited to help Elsi Beauty build its flagship, personalized product platform and look forward to introducing customers to its superb product line."
Founder of Elsi Beauty, Elsa Jungman, Ph.D., added, "Barbara and the Sekhmet Ventures team quickly stood out as ideal partners in the wellness and skincare space, demonstrating a clear passion in the science and process behind Elsi's products. Success in any market requires both capital, sound strategic counsel and a robust network of experts, and Sekhmet Ventures is a valued provider of all."