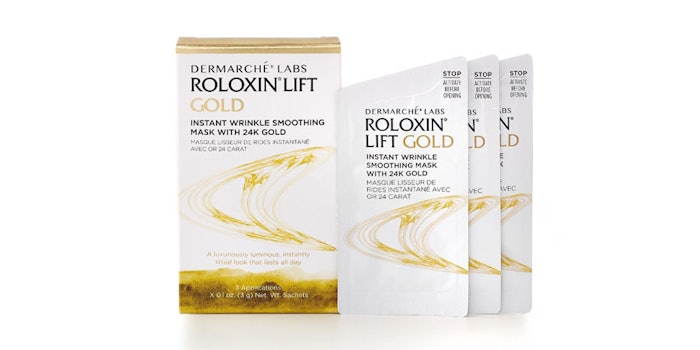 Dermarché Labs has announced the release of its newest product, Roloxin Lift Gold: Instant Wrinkle Smoothing Mask with 24K Gold. This mask intends to reduce the look of fine lines, pores and wrinkles while giving the user an instantly lifted look.
The addition of 24K gold to the mask aims to deflect light and give skin a smoother appearance and texture.
The treatment itself lasts for 10 minutes and the results can last as long as 24 hours. The mask contains Silicalift technology, which is made up of hydrophilic and hydrophobic silica particles that contract as the skin dries.
"Roloxin Lift Gold is a skincare essential to add a little sparkle and let skin shine during holiday festivities when women want to look and feel their best," said Esther Dong, senior vice president and general manager of Dermarché Labs. "The innovative mask also lends itself as the perfect gift for beautiful, radiant skin this holiday season."