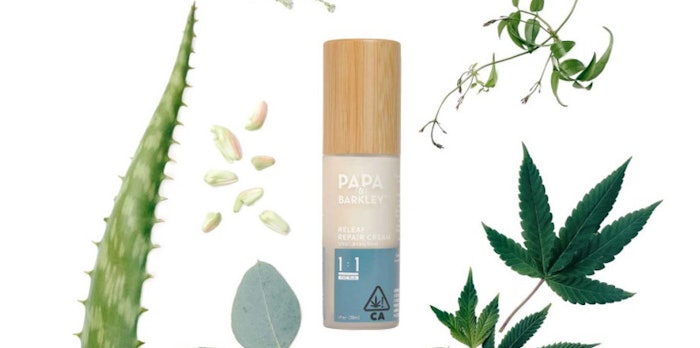 Wellness brand Papa & Barkley announced the launch of its new skin care products that are infused with fresh-pressed cannabis rosin said to help boost the skin health, moisturize and keep skin looking radiant and youthful.
Further reading: CBD Product Rating System and New Launch Roundup
According to the brand, rosin is a golden sap-like substance made from the trichomes of the cannabis plant. The rosin is pure and maintains the full spectrum of the nutrients in the plant. 
Products that are infused with rosin are said to be more potent and efficacious than products using traditional THC isolate- or distillate-based processes.
Products in the collection include:
Releaf THC Body Lotion
Releaf 1:3 Body Oil
Releaf 1:1 Repair Cream
Founder and CEO Adam Grossman said,"From our beginning, Papa & Barkley has been dedicated to making best in class wellness products that are clean and solvent free, potent and efficacious. Our skincare products are designed with those same values in mind. Whether you're struggling with acne, hoping to reduce age spots, or just taking great care of your skin, there now is a Papa & Barkley skincare product you can turn to."
Ingredients (Releaf 1:3 Body Oil): Hemp Extract, MCT Oil (from Coconut), Jojoba Oil, Vitamin E Oil, Essential Oil Blend (Eucalyptus, Tea Tree, Peppermint, Lavender).