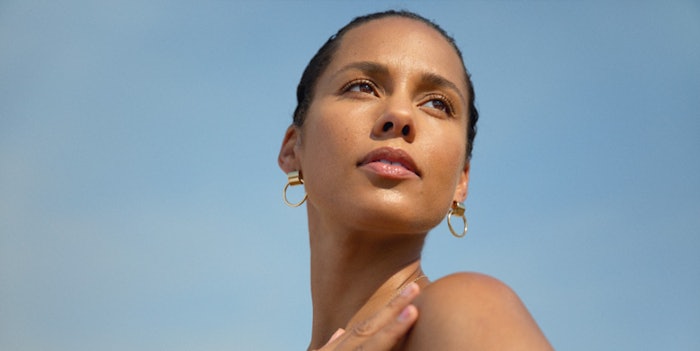 Alicia Keys and e.l.f. Beauty are partnering on a new lifestyle brand, Keys Soulcare, set to launch on September 29, 2020. According to the brands, the collection "aims to share the soul of self care and skin care through content, community and conversation."
Previously: Selena Gomez's Rare Beauty Launches
Keys Soulcare features skin care, body care, air care products and more. Keys reportedly says there are four keys to soulcare: body, spirit, mind and connection, all representing physical, spiritual, mental and social shelves. 
With its launch on September 29, the website and weekly email newsletters will offer co-created content, including stories, tips and inspiration across each of the four keys of soulcare.
According to the brand, previewing for holiday 2020 will be a skin care line and a signature safe and oat milk candle. The full collection is planned to launch early 2021.
Keys Soulcare will reportedly donate a portion of its profits to a non-profit yet to be revealed.
"We are so proud to partner with Alicia, as we share the same core values of inclusivity, empowerment, and a deeper view of beauty," said Tarang Amin, chairman and chief executive officer, e.l.f. Beauty. "We look forward to leveraging our capabilities and track record of success as we take this next step in our transformation to a multi-brand portfolio."
Kory Marchisotto, chief marketing officer, e.l.f. Beauty and president, Keys Soulcare said: "The first time we met Alicia, we knew that we were creating something that transcended skin care. Her powerful words and her passion for taking care of the whole self, inspired us to create a rich, soulful content experience along with serious skincare. Now, more than ever, it's important to connect with consumers in deeper, more meaningful ways."