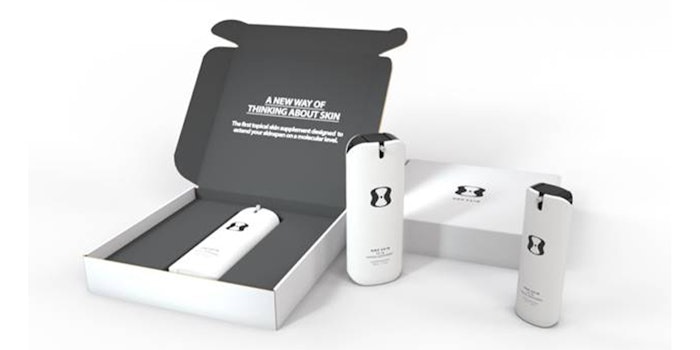 OneSkin, a biotech longevity company, has launched with its Topical Supplement, which is said to optimize skin health and skin strength.
Previously: Anti-Tech Serum by Foster's Lab Tackles Blue Light
According to OneSkin, the company was founded by four women, all with Ph.D.s and backgrounds in skin regeneration, stem cell biology, bioinformatics and more. 
The Topical Supplement features a proprietary peptide, OS-01, which reduces the skin's biological age by "improving skin barrier, supporting DNA damage repair, and preventing the accumulation of senescent cells, leading to increased epidermal thickness, improved skin structure through increased collagen production and hyaluronic express, maintained skin homeostasis and cell vitality," according to the brand.

OS-01 reportedly makes the skin "firmer, smoother, more hydrated with decreased inflammation, less fine lines and wrinkles, decreased dark spots and improved overall appearance."
The Topical Supplement is available for $120 for a 50 ml bottle or $100 on a subscription basis.