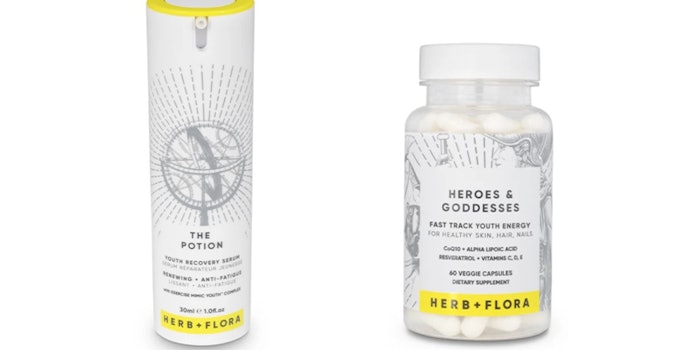 Herb + Flora, has launched a range of products that supports the autophagy (the cleaning out of damaged cells) of the skin and body. In this way, the topicals and ingestibles reportedly mimic the anti-aging effects of exercise on skin.
Previously: TruBeauty's Nitric Oxide Rejuvenation Promotes Healthy Skin Within
The products are clean, vegan and refillable. According to the brand's Instagram, research has shown that "exercise is able to enhance nature's natural recycling mechanism, which is known as autophagy. Autophagy happens in the mitochondria and  creates a fresh energy supply in the skin, helping improve its health and slow down skin aging."
Herb + Flora's proprietary blend, the Exercise Mimic Youth Complex, is a combination of actives that reproduces the anti-aging effects of exercise and "unlocks the life energy of skin."
Products in the collection include:
Eye of the Cyclops: Recovery eye gel for lines, bags and circles

The Potion: Youth recovery serum 

Heroes + Goddesses: Youth energy for healthy kin, hair and nails

Morpheus Pillow: Anti-wrinkle recovery pillowcase