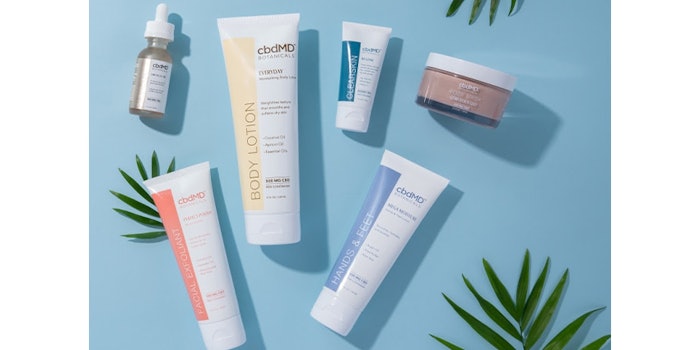 cbdMD, Inc. is entering the global beauty and skin care market with the brand's launch of cbdMD Botanicals, featuring 15 luxury products, including facial oil, serum, toner, moisturizers, a facial mask treatment, exfoliant and body care. 
Previously: CocoBaba Launches Skin Care for Mothers
The products will be available exclusively online at www.cbdmd.com/cbdmd-botanicals.
Martin Sumichrast, chairman and co-CEO of cbdMD, Inc. said: "cbdMD Botanicals fuses cbdMD's patent-pending Superior Broad Spectrum CBD formula with all-natural plant-based oils and nutrients, resulting in a luxury, naturally-derived skin care line that enriches the skin with luxurious botanicals, which can help achieve the perfect balance of everyday self-care. Formulated without the use of parabens, cbdMD Botanicals products are vegan, cruelty-free, non-GMO, and gluten-free. cbdMD Botanicals offers consumers luxury botanical skin care, while at the same time, being cost-conscious in the beauty and skin care market. Given our proven track record of providing our customers with some of the best-selling products across multiple CBD categories, we are confident that cbdMD Botanicals will be well-received in the growing multi-billion dollar global beauty and skin care market."