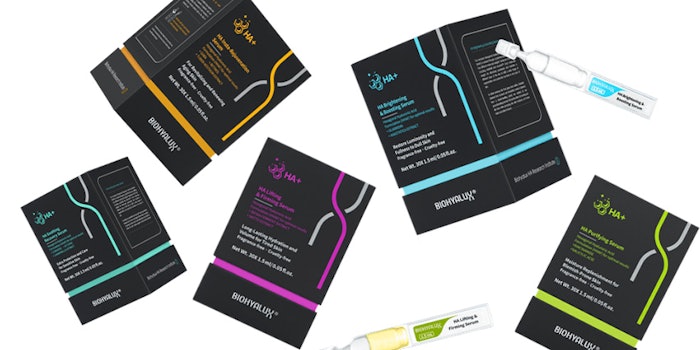 Biohyalux, a specialist in hyaluronic acid (HA), has launched its new line of skin care that caters to a range of skin types and target specific skin issues using its Hexagonal Hyaluronic Acid Formulation (HHAF).
Related: Revieve: December 2020 Skin Care Purchases Decrease 19%
HHAF, which comprises four molecular weights of HA, reportedly replenishes the body's lost reserves. Each molecular weight is formulated to reach different depths of skin to fulfill a range of regenerative and hydrating functions that improve skin from the inside out. 
Large molecules are designed to protect the skin's outermost layer, and smaller molecules are designed for deeper absorption into the skin. For example, the third smallest molecule, miniHA small molecular weight HA, gives deeper hydration that promotes cell growth and stimulates cellular activity, further boosting skin elasticity and reducing the appearance of wrinkles.
The skin care line includes six serums and one mask: 
The Hydro Intense Serum contains creatine, a substance produced naturally in the human body that encourages skin cell repair and helps boost elasticity and softness. 

The Lifting and Firming Serum can be used at the first sign of aging and contains bifida ferment extract and natto extract in addition to hyaluronic acid cross polymer.

The Purifying Serum is formulated with salicylic acid and niacinamide (vitamin B3) to reduce excess shine, refine texture and unclog pores.

Brightening and Boosting Serum is formulated with glabridin, a natural lightening agent that also soothes skin as well as Anastatica extract, a potent antioxidant. 

Insta-Rejuvenation Serum contains retinol, Tuber aestivum extract and GABA, a non-protein amino acid found in the body which reduces the appearance of wrinkles and fine lines while helping repair damaged skin.

Soothing Recovery Serum targets the areas in skin that trigger inflammation as well as alleviates signs of irritation and dryness with the help of ceramide, ectoine and chamomilla extract which enhances the skin's natural barrier against environmental stressors.

Ultimate Hydration Mask is made with its HHAF formula and plant extracts such as peony root and prickly cactus extracts.
These serums are alcohol and fragrance-free, as well as cruelty-free. The line is manufactured according to the highest industrial standard and safety procedure and is packaged in individual soft ampules which are 100% recyclable.