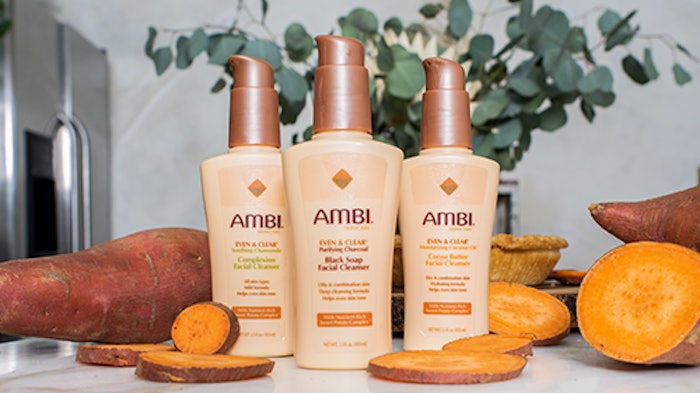 Ambi Skincare
Ambi Skincare (Ambi) has launched three liquid cleansers in its Even & Clear Facial Cleanser Collection that are based on a proprietary, nutrient-rich sweet potato complex for healthy skin.
The three products are: Soothing Chamomile Complexion Facial Cleanser for all skin types, including delicate; Moisturizing Coconut Oil Cocoa Butter Facial Cleanser for dry and combination skin; and Purifying Charcoal Black Soap Facial Cleanser for oily and combination skin. Each contains the sweet potato complex and are free of artificial soaps, alcohols, fragrances and dyes.
In addition to the Even & Clear Facial Cleanser Collection, Ambi launched its African Black Soap Face and Body Bar in stores and online. This soap bar contains moisturizing shea butter, coconut oil and cocoa butter, and antioxidant-rich plantain fruit, which reportedly encourages cell growth and improves skin tone and texture. This full body cleanser is said to offer relief for common skin conditions including mild eczema, dry skin and acne.
"We are thrilled to launch these new cleansers that meet the unique needs of our consumers with melanin-rich skin," said Ambi's head of marketing, Nicole Ray Robinson.
Ingredients (Soothing Chamomile Complexion Facial Cleanser): Water (Aqua), Aloe Barbadensis Leaf (Aloe Vera Gel) Juice, Cocamidopropyl Betaine, Sodium Lauroyl Methyl Isethionate, Glycerin, Ipomoea Batatas (Sweet Potato) Extract, Chamomilla Recutita (Chamomile) Extract, Camellia Sinensis (Green Tea) Extract, Zemea (Corn) Propanediol, Retinyl Palmitate (Vitamin A), Copper Sulfate, Tocopheryl Acetate (Vitamin E), Calendula Officinalis Extract, PEG-12 Dimethicone, Bixa Orellana (Annatto) Extract, Citric Acid, Phenoxyethanol, Ethylhexylglycerin