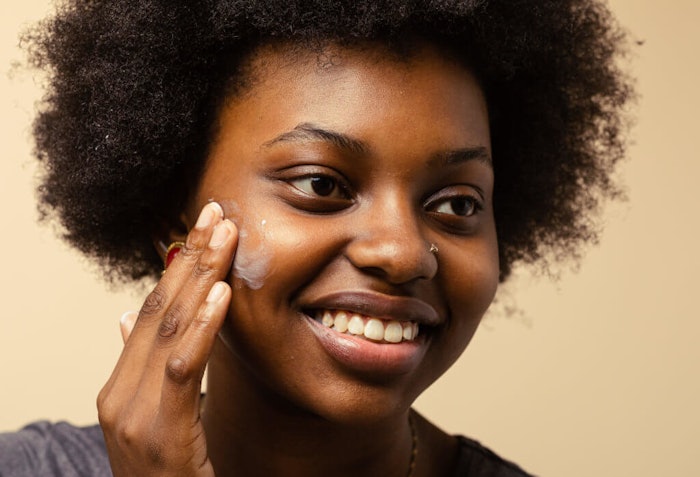 Image source: weare.lush.com/
Lush co-founder and product inventor, Helen Ambrosen, has created self-preserving formulations of the company's moisturizers and Ultrabland cleanser to nourish both the complexion and the microbiome. According to Lush, each self-preserving product can last for up to six months.
Featured: Read the Label: LUSH's Light Touch Solid Face Oil Serum
Celestial moisturizer: This moisturizer was created to shield the skin. Almond milk, cupuaçu and illipe butters soften and moisturize, offering relief from the outside world.
Vanishing cream moisturizer: This moisturizer is targeted for combination, oily and teenage skin, and those who need a gentle touch to help with breakouts. The lavender water balances and the rosewater soothes, while oils of grapeseed and camellia and a lightweight linseed gel soften.
Skin Drink moisturizer: This moisturizer contains a blend of the soothing and restorative properties of evening primrose and sesame oils, aloe vera and fresh avocado, along with fresh rose petals and a perfume of neroli oil and rose.
Skin's Shangri La moisturizer: This moisturizer provides a softening and moisturizing effect on the skin, containing nourishing, mineral-rich ingredients. Key ingredients include aloe vera and fresh rosemary.
Enzymion moisturizer: This is a lightweight and easily absorbable moisturizer to leave skin softened and dewey. Wheatgerm and evening primrose oils are balanced by lemon and papaya, while the aloe adds calmness.
Ultrabland self-preserving cleanser: Simple and effective, this cleanser removes dirt and makeup without stripping away the skin's natural defenses, leaving the skin feeling soft and calm. The inspiration is based on a gentle oil, beeswax and rosewater emulsion "cold cream" recipe.
"It's important to look after the helpful microflora that lives on our skin and defend against invading bacterial pathogens," said Ambrosen. "We use minimal preservatives in our products when we have to and we have been working hard to remove preservatives from products wherever we can over the decades. These versions are just as effective with all the goodness and no preservative content."
Ingredients (Enzymion moisturizer):  Lemon Infusion, Organic Jojoba Oil, Glycerine, Organic Cocoa Butter, Stearic Acid, Fragrance (Parfum), Propylene Glycol, Organic Avocado Oil, Organic Cold Pressed Evening Primrose Oil, Almond Oil, Water (Aqua), Wheatgerm oil, Triethanolamine, Tangerine Oil, Lime Oil, Aloe Gel, Lemon Juice, Papaya Juice, Cetearyl Alcohol, Citral, Citronellol, Limonene, Linalool.