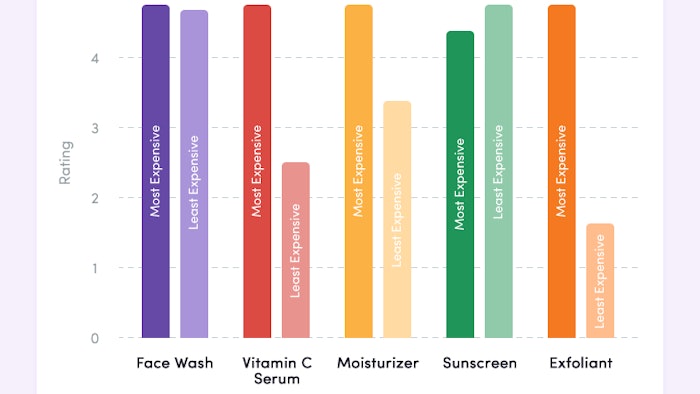 Skincare Hero has conducted a study on consumer product reviews in the beauty industry across Amazon, Target, Walmart and Ulta. The analysis suggests that consumers are primarily reviewing products on Amazon and are willing to spend more on certain types of skin care products.
More from Skincare Hero: Most Searched Skin Care Ingredients Globally
Skincare Hero analyzed the ratings of 677,165 consumer reviews across the four platforms to develop the data used in the study.
Per the report, vitamin C serums, exfoliants and moisturizers had better consumer ratings and reviews as the price per fl. oz. increased, meaning consumers saw more value in the pricier products.
Face wash and sunscreen had the opposite effect, with more expensive sunscreens having a lower overall rating as cost increased.
Amazon gets the most consumer reviews for skin care products, with 73% of the reviews analyzed coming from Amazon. Target and Walmart each made up 10% and Ulta contributed 7% of the reviews analyzed.
In general, reviewers on Walmart and Amazon give higher ratings, while Target and Ulta reviewers typically give lower ratings.
Read the full report here.