K-beauty brand SKIN1004's Hyalu-Cica collection combines hydrating hyaluronic acid and soothing, anti-inflammatory Centella asiatica to combat dry, flaky, and inflamed skin. The Hyalu-Cica products contain other ingredients such as AHAs, niacinamide and Camellia sinensis to leave skin healthy, refreshed and glowing skin.
Previously: 'Bloody' Good Skin: SKIN1004 Debuts Zombie Beauty Bloody Peel
SKIN1004's Hyalu-Cica line includes an exfoliating Brightening Toner, replenishing Cloudy Mist, radiance-boosting Blue Serum and a calming melatonin-rich Sleeping Pack for restful beauty sleep.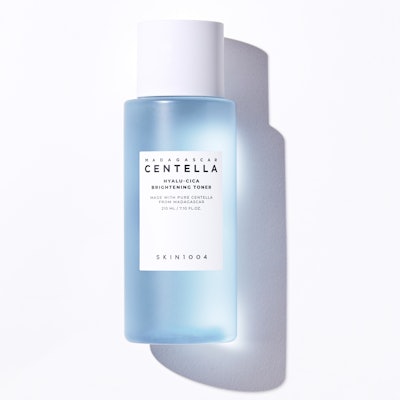 Hyalu-Cica Brightening Toner restores the skin's balance with this light hydrating toner, reportedly proven to promote a radiant-looking complexion. Containing exfoliating ingredients such as AHA and LHA, this product works to remove dead skin cells and sebum. The mixed blend of hyaluronic acid and Centella asiatica transforms dehydrated skin, providing a surge of hydration. The toner ensures that all traces of makeup are removed after cleansing while helping to lock in moisture.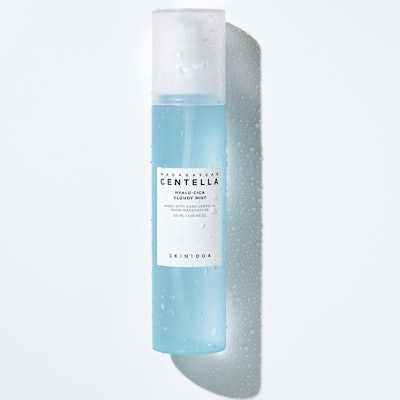 Hyalu-Cica Cloudy Mist hydrates the skin with a light and hydrating mist to replenish the skin's moisture barrier with a layer of skin soothers. Suitable for all skin types, this mist is made with a blend of Camellia sinensis, hyaluronic acid and Centella asiatica.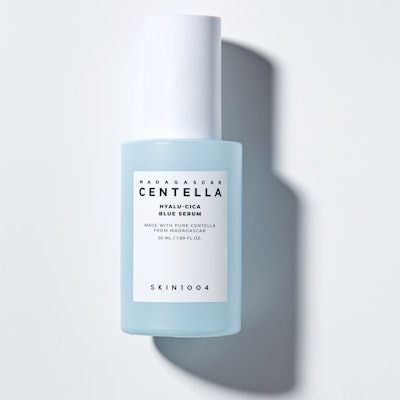 Hyalu-Cica Blue Serum transforms dull skin with this lightweight gel serum, reportedly proven to promote a revitalized and radiant-looking complexion. It provides hydration with a combination of hyaluronic acid to plump and hydrate, Centella asiatica to replenish essential hydration, and niacinamide to minimize the appearance of uneven skin tone and texture.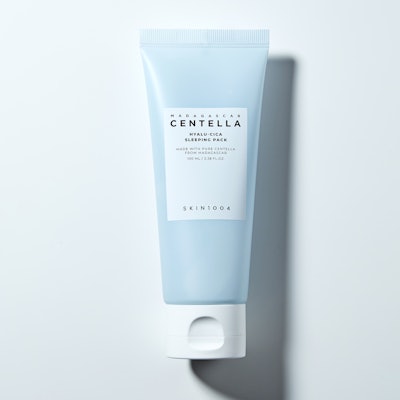 Hyalu-Cica Sleeping Pack encourages a calmer and clearer complexion for consumers to wake up to. Containing SKIN1004'S Hyalu-Cica formula, the soothing blend provides hydration and also works to reduce the appearance of redness and irritation. Ideal for sensitive skin, the sleeping pack works over night to help protect and soothe dehydrated and stressed skin with melatonin, while niacinamide combats uneven skin tone and texture.
Ingredients (Hyalu-Cica Sleeping Pack): Centella Asiatica Leaf Water, Purified Water, Butylene Glycol, Glycerin, 1,2-Hexanediol, Niacinamide, Polyglutamic Acid, Pantolactone, Hibiscus Esculentus Extract, Carbomer, Panthenol, Sodium Hyaluronate, Hydrolyzed Hyaluronic Acid, Hyaluronic Acid, Cetearyl Olivate, Methylpropanediol, Arginine, Pullulan, Sorbitan Olivate, Caprylic/Capric Triglyceride, Pyrus Communis (Pear) Fruit Extract, Adenosine, Rosa Damascena Flower Water, Cucumis Melo (Melon) Fruit Extract, Iris Florentina Root Extract, Ethyl Hexyl Glycerin, Hedera Helix (Ivy) Leaf/Stem Extract, Sodium Phytate, Xanthan Gum, Maltodextrin, Artemisia Princeps Leaf Extract, Hydrolyzed Gardenia Florida Extract, Melatonin, Illicium Verum (Anise) Fruit Extract, Larix Sibirica Wood Extract, Quercus Mongolica Leaf Extract, Persicaria Hydropiper Extract, Rheum Palmatum Root/Stalk Extract, Asarum Sieboldii Root Extract, Chrysanthellum Indicum Extract, Corydalis Turtschaninovii Root Extract, Coptis Chinensis Root Extract, Machilus Thunbergii Bark Extract, Pentylene Glycol, Hydrogenated Lecithin, Ceramide-NP.