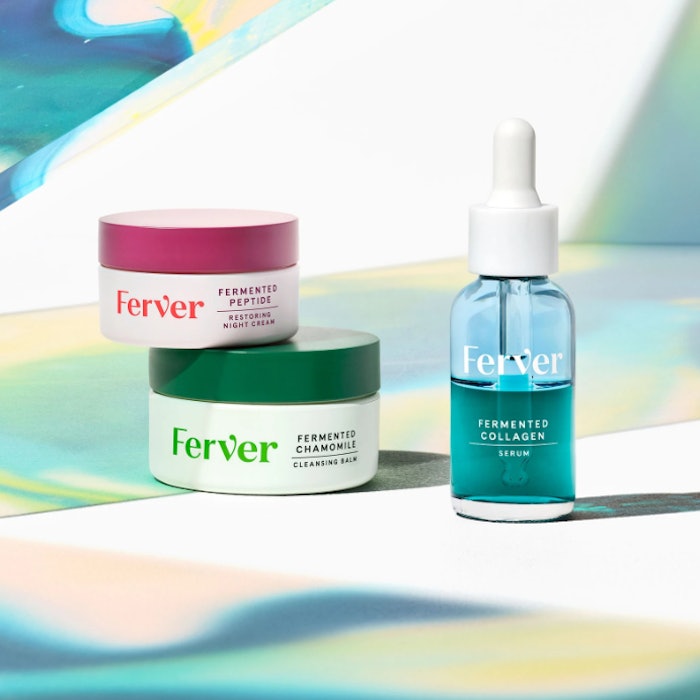 Unilever's skin care brand Ferver has launched a collection exclusively at Target that contains a full range of cleansers, treatments, masks and moisturizers that use fermented actives. The product prices range from $14.99 to $18.99.
Related: Unilever Launches Beautiful Hair & Scalp Range at Walmart
Within cleansers, Ferver offers Fermented Black Tea Cleansing Milk Face Cleanser and Fermented Chamomile Cleansing Face Balm. The cleansing milk uses fermented black tea, safflower oil and glycerin to provide additional hydration and luminosity. Cleansing Milk is ideal as a light morning or second cleanse. The cleansing balm contains fermented chamomile, moringa and avocado oil to cleanse and soften skin and destroy impurities. It is ideal for an evening or first cleanse.
Ferver offers face serum in three main actives: hyaluronic acid, collagen and prebiotics.
Hyaluronic Acid Serum is a hydrating face serum that also contains high and low molecular weight acids. The Collagen Serum is a firmness-focused face serum that uses argan, coconut and macadamia nut oils to nourish skin and stimulate collagen production. Prebiotics Glow Serum is a lightweight daily serum with fermented prebiotic and vitamin E to refresh hydration and restore radiance.
Ferver Fermented Lactic Acid Tonic Face Treatment is an exfoliating tonic that uses fermented lactic acid to smooth and bright skin.
The brand's Brightening Day Cream is a glow-boosting daily moisturizer infused with fermented vitamin C, glycerin and coconut oil to hydrate and brighten skin. Its Restoring Night Cream uses fermented peptide, jojoba and raspberry seed oil to nourish and replenish skin overnight.
Ferver Fermented Ginseng Eye Cream uses fermented ginseng, caffeine, and vitamins C and E to help reduce puffiness and diminish dark circles.
The brand's Fermented Enzyme Radiance Face Mask uses fermented lactic acid, red algae and turmeric to provide glow and hydration in a once-a-week treatment.
Ferver's Fermented Range is available at Target stores and online at target.com.