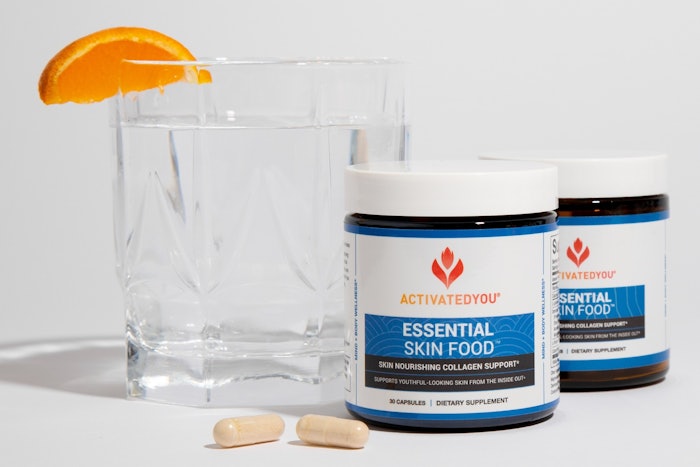 ActivatedYou has launched its Essential Skin Food, a dietary supplement that encourages healthy collagen production for firmer, plumper-looking skin.
Previously: Gelita's Collagen-based Nutricosmetic Collections
The formula contains zero animal-based collagen and is 100% plant-based.
ActivatedYou Essential Skin Food blends together minerals, plant-based vitamins, essential amino acids and herbal extracts.
Key ingredients:
Dermaval: A natural collagen-booster from FutureCeuticals that uses phytonutrient compounds like pomegranate extract, camu camu, coffeeberry and quercetin to help fight the breakdown of elastin in the body and support the elasticity and firmness of the skin.
Vitamin C: A natural antioxidant that helps fight off free radicals that damage the skin, to promote more radiant and bright-looking skin.
Amino acid complex: Contains lysine and L-proline, building blocks of collagen, that work together to help tighten and plump skin's appearance over time.
Cosmythic: An elixir from Purextract containing polyphenols that help "energize" old cells responsible for collagen production, for more youthful-looking skin.
ActivatedYou Essential Skin Food can be purchased on the brand's website.