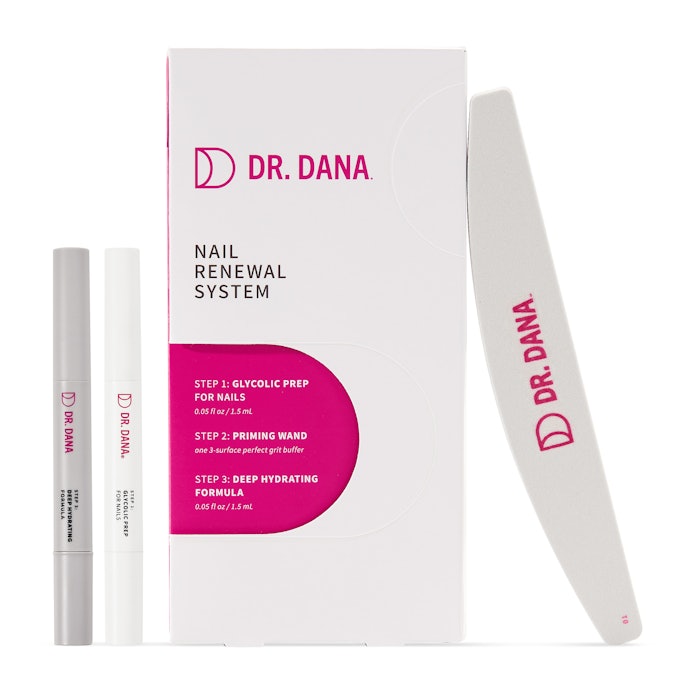 Rare Beauty Brands (RBB), which acquired the Dr. Dana brand in November 2021, has relaunched the brand's Nail Renewal System to push the skinification of the nail sector.
The Nail Renewal System retails for $30 at drdananails.com and will soon be available on Amazon.com.
The system leverages plant-based ingredients to address brittle, ridged, weak and over-processed nails, leaving them healthy, lustrous and glowing upon the first application, per the brand.
Key ingredients include Pistacia lentiscus (mastic) gum, a nail strengthener, and glycolic acid for exfoliation.
"Skin care products have progressed in line with scientific advancements, so why haven't nail care products?" said founder Dana Stern, MD. "It is time for a nail care brand that does more than merely mask the issues—that revolutionizes the way people care for their nails. Through the Nail Renewal System process, we are removing damaged superficial nail cells just like you do when you exfoliate the skin, and we're hydrating and treating."
"Dr. Dana perfectly encompasses the mission behind RBB's work—to scale purpose-driven beauty brands and leaders that want to make a positive impact in consumers' lives," said Chris Hobson, president and chief executive officer of Rare Beauty Brands. "We're excited to tap into her 15 years of nail expertise and vast knowledge of product chemistry to forever change nail care."
Global Cosmetic Industry recently interviewed Hobson and Stern about the relaunch.
Why did Rare Beauty Brands find this brand as a good addition for the company?
Hobson: The Dr. Dana brand fit literally all of the main criteria we consider before making an investment. First and most importantly, it features a highly efficacious, truly differentiated product, the Nail Renewal System. This isn't the all-too-common "put your logo on a stock formula" that we see in the beauty industry. This is a product that really works because it is based on real science and was invented by a real expert. The before and afters and consumer studies are incredible.
The second reason was Dr. Dana herself. Dr. Dana Stern is one of the only board certified dermatologists that devotes her entire practice to the diagnosis, treatment, and surgery of the nail. She teaches nail health and dermatology to medical residents at the Mt. Sinai School of Medicine. Vogue calls her "the go-to dermatologist for nail disorders." You get the picture.
Finally, the brand had a demonstrated track record of happy customers, productive retail partnerships and strong economics.
How did RBB work to retool the brand for relaunch? 
Hobson: When you have an amazing hero product with a loyal cult following and a compelling founder, rule #1 is "don't mess with success." So it was less about "retooling" the formulas and more about making the packaging more compelling and the instructions even easier to follow. What you're going to see in the future is Dr. Dana bring her expertise to even more areas of nail health as we extend the line more broadly.
How is the brand bringing skinification to the nail sector?
Stern: While "the skinification" of non-skin care brands is certainly a big trend, from our brand's inception, Dr. Dana has always incorporated skin care knowledge as a crucial part of how we approach product development and formulation because as a board certified dermatologist, this is our brand's DNA.
A great example of this is Step 1 of our 3-step system is a Glycolic Prep. While the concept of exfoliation before hydration has been common knowledge in skin care, when I discovered medical studies that showed that glycolic acid (GA) can rejuvenate a damaged nail, I began to experiment with GA and our Renewal System is the first nail treatment product to incorporate this incredibly effective ingredient.
Just like dry skin should be exfoliated before moisturizer is applied, our Nail Renewal System harnesses the power of glycolic acid so that the nail can be effectively hydrated and treated.
How important are DR.-led brands in a crowded market where efficacy claims aren't always met?
Stern: Very! The market is indeed saturated and so consumers have more voices speaking to them than ever before coupled with the emergence of influencer led brands where consumer products are being touted by just about everyone regardless of expertise. I believe that consumers are going to make a robust return to Dr.-led brands and that this trend will be fueled by consumer demand for real science and clinical expertise and that this trend will be especially relevant for results driven brands.