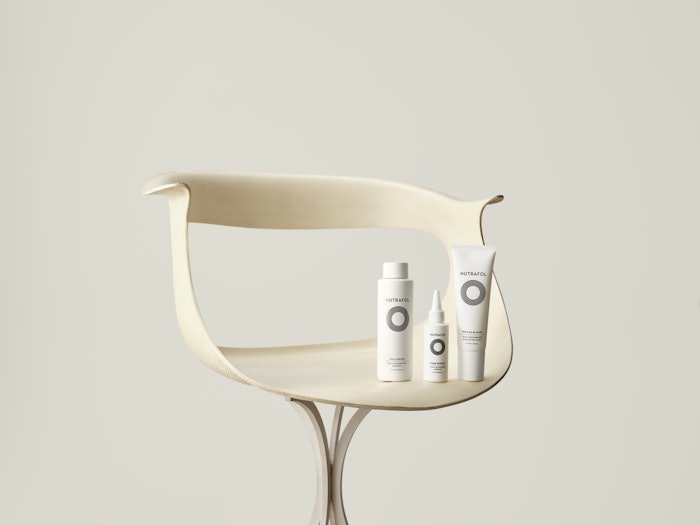 Nutrafol, which was recently acquired by Unilever, has debuted its newest product line, Scalp Microbiome Support, featuring patent-pending, physician-formulated products designed to balance the scalp microbiome and provide optimal hair growth.
The products are vegan, sulfate and paraben-free and contain advanced, natural ingredients that nourish and preserve the scalp microbiome for healthy hair.
The Scalp Microbiome line has received the Microbiome Friendly Seal, a certification reserved for products that follow specific clinical testing to ensure each product protects and promotes good diversity of microbes.
Products in the collection include:
Build-Up Blocker: An exfoliating mask that removes excess oil buildup using natural key ingredients, gentle acids, sebum balancing amino acids and plant detoxifiers. 
Root Purifier: A daily, nourishing and cleansing shampoo containing clinically proven ingredients such as a natural alternative to sulfates, a biosurfactant, prebiotics and vegan protein, that balances PH levels and creates the ideal environment for a healthy scalp and thriving hair.
Stress Reliever: A scalp microbiome essence made with soothing botanicals, collagen boosters, and pre and postbiotics to calm the scalp, that visibly reduces redness and improves a dry flaky, sensitive scalp. 
Giorgos Tsetis, CEO and co-founder of Nutrafol, said, "The scalp microbiome is not just another trendy health topic being talked about on social media—it is an important element to overall hair health that should be cared for just as much as people care about their skin routines. Nutrafol has spent an extensive amount of time studying and understanding the impact that a balanced scalp microbiome has on our hair, and has created innovative formulas aimed at maintaining the optimal ecosystem for healthy hair, as a complement to our hair growth nutraceuticals. We're excited to announce the launch of Scalp Microbiome Support, a revolutionary suite of products that will bring and keep scalp health at the forefront of the hair health industry conversation."