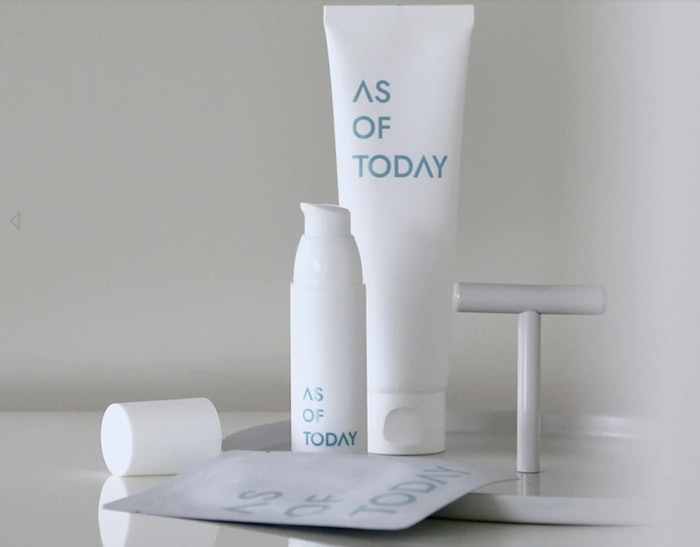 A new clean skin care brand, As of Today, has launched. 
Previously: Revolution x Sali Hughes Introduce Skin Care Collection
Founded by Sarah Choi, a graduate of University of Southern California and the Fashion Institute of Design & Merchandising (FIDM) in California, As of Today features four facial products.
The product ingredients are sourced from Paris. The key ingredient R-Peptide is in all their products, which is a naturally-derived neuro-calming peptide that reactivates skin barriers and thus reverses signs of stress-aging.
As of Today is created without parabens, phthalates, sulfates, retinol, plastic microbeads and several other commonly-used ingredients.
Products in the collection include: 
R-Peptide Enzyme Cleanser: This mild cleanser, used as the first step in the As of Today skin care routine, is designed to provide deep cleaning and exfoliation benefits without any dryness. This product's cream-to-foam texture can leave the skin hydrated and refreshed.
R-Peptide Toner Pads: Used after the cleansing, these pre-moistened cotton toner pads can help balance the skin's natural pH without causing excess dryness.
R-Peptide Ampoule:1% highly concentrated R-Peptide for optimal results designed to repair the look of wrinkles and promote a youthful overall appearance of the skin, this product also features a glowing effect to leave the wearer with a rejuvenated and brightened look.
R-Peptide Renewing Masks: These anti-aging skin masks can help reduce the appearance of wrinkles when used after the Ampoule formula and helps to rejuvenate the glowing skin.
The brand is currently headquartered in New Jersey, with plans to relocate the company to New York in 2023.