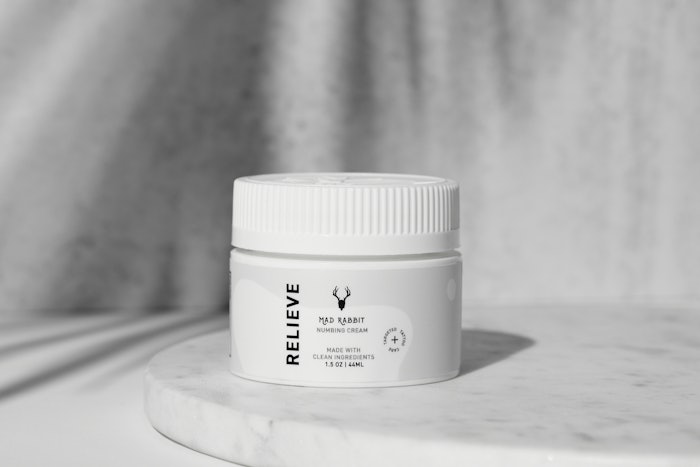 Mad Rabbit, the clean tattoo skin care brand, has unveiled its Numbing Cream to relieve pain prior to and after getting a tattoo.
The launch of Numbing Cream marks Mad Rabbit's first foray into the pre-tattoo care space, positioning it as a comprehensive tattoo skin care brand.
Numbing Cream delivers fast-acting pain relief in just one application, according to the company.
The formulation features 5% lidocaine, a local anesthetic that numbs the area it's applied to by blocking the pain receptors in the skin.
The nongreasy, fast-absorbing cream also includes a combination of anti-bacterial and anti-inflammatory ingredients and lightweight hydrators that support the skin's natural barrier to soothe irritability and promote optimal function at the surface of and below the skin.
Mad Rabbit recommends applying the cream 30 minutes before receiving a tattoo to reduce pain and irritation.
Numbing Cream can also be used after a tattoo session to aid in healthy healing without the pain. It can be applied three times a day or every six to eight hours after getting inked.
In addition, the cream can be used for the topical relief of minor scrapes and for areas of general pain and discomfort, the company says.
Numbing Cream
$25 per 1.5 oz
Active Ingredient: Lidocaine
Inactive Ingredients: Benzyl Alcohol, Carbomer, Cholesterol, Hydrogenated Lecithin, Isopropyl Myristate, Polysorbate 80, Propylene Glycol, Purified Water, Trolamine, Vitamin E Acetate