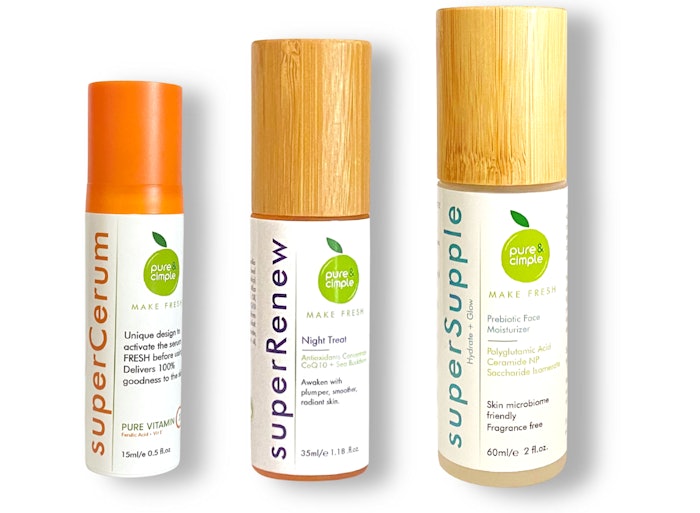 U.K.-based Pure & Cimple has launched into the U.S. market with its streamlined collection of clean and minimal skin care products.
Founded by Preeti Luthra in 2020, Pure & Cimple prioritizes a simplified approach to skin care. Instead of developing an overcomplicated line of symptom-focused formulas, the brand emphasizes research-backed formulas, potent active ingredients, and organic botanicals and herbs that combat an array of skin maladies and support the skin at all stages.
Pure & Simple's skin care range consists of only three products.
The superCerum Pure Vitamin C serum is formulated with 20% L-ascorbic acid, a pure and potent form of vitamin C that treats uneven skin tone, acne scars, rough texture, fine lines and wrinkles, and overall dullness of the skin.
Unlike premixed vitamin C serums that lose their effectiveness while sitting on shelves before consumers even buy them, the unique packaging for the superCerum Pure Vitamin C ensures that the formula is fresh and potent with each use. It isolates the vitamin C from the rest of the formula, activating the ingredient once the product is in use.
The superSupple Hydrate + Glow prebiotic face moisturizer features polyglutamic acid, which is a hydrating, water-soluble peptide derived from fermented soybeans to reduce the appearance of fine lines, wrinkles and pores while replenishing cell moisture.
Polyglutamic acid also stimulates the synthesis of ceramides for the skin to function properly and protect against collagen degradation.
In addition, the moisturizer incorporates saccharide isomerate, a prebiotic that balances diverse microbiomes in the skin.
The superRenew Night Treat oil is formulated to treat dry, dull, mature and tired skin by restoring the nutrients needed to reset the skin while the user is sleeping.
It repairs daily skin damage, calms stressed skin and reduces the signs of aging with CoQ10; sea buckthorn CO2 extract; and healing plant oils, including squalane, rosehip, camellia and meadowfoam.
In addition to using organic and natural botanicals and herbs as well as clinical ingredients that are void of toxins, Pure & Cimple products are bottled in sleek, minimalistic and 95% recyclable packaging to further reduce its environmental impact.
The Pure & Cimple products are available at pureandcimple.com and on Amazon.
superCerum Pure Vitamin C
$29 per 1 fl oz
Ingredients: Aqua, L-Ascorbic Acid, Glycerin, Macrocystis Pyrifera (Kelp) Extract, Ferulic Acid, Propanediol 1,3, Sodium Lactate, Tocopherol, Heptyl Glucoside
superSupple Hydrate + Glow
$35 per 2 fl oz
Ingredients: Aqua, Citrus Aurantium Dulcis (Orange) Flower Water, Argan Oil, Camellia Oil, Propandial 1,3, Caprylic Triglyceride, Cetearyl Glucoside and Cetearyl Alcohol, Saccharide Isomerate, Tocopherol, Polyglutamic Acid, Phenoxyethanol, Ethylhexylglycerin
superRenew Night Treat
$26 per 1.18 fl oz
Ingredients: Camellia Japonica (Camellia) Seed Oil, Rosa Canina (Rosehip) Seed Oil, Limnanthes Alba (Meadowfoam) Seed Oil, Squalane, Coenzyme Q10 (Ubiquinone), Sea Buckthorn (Hippophae Rhamnoides fruit oil), Tocopherol, C12-15 Alkyl Benzoate, Helianthus Annuus Seed Oil