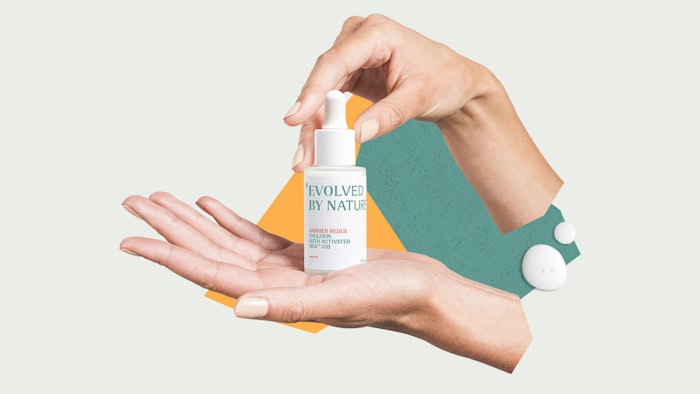 Evolved By Nature has debuted the Barrier Redux Emulsion, the first skin care product that is formulated with its Activated Silk 33B, a natural, sustainable polypeptide solution designed specifically to help support the skin cells responsible for skin barrier health, promoting youthful, hydrated and smooth skin. 
Activated Silk 33B helps to support the skin barrier cells that produce claudin, a protein that binds skin cells together for a firmer, healthier-looking skin barrier.
The polypeptide solution prevents moisture-loss while allowing the skin barrier to protect itself from harsh environmental stressors.
The serum product is naturally-derived, cruelty-free, petrochemical-free, hypoallergenic and biodegradable in the environment.
Evolved By Nature received $120 million in Series C funding in June 2022. The financing was used to accelerate commercialization of the Activated Silk technology platform.
Laura Muollo, Ph.D. and senior director of personal care R&D at Evolved By Nature, said, "Everyone can benefit from a healthy skin barrier so our goal was to design an innovative product in a format that anybody can incorporate into their skincare routine. The Barrier Redux Emulsion is uniquely versatile—unlike many synthetic and fossil fuel-derived ingredients that claim barrier benefits. We have created a wonderfully lightweight and simple formula that can be used alone or added to favorite products".