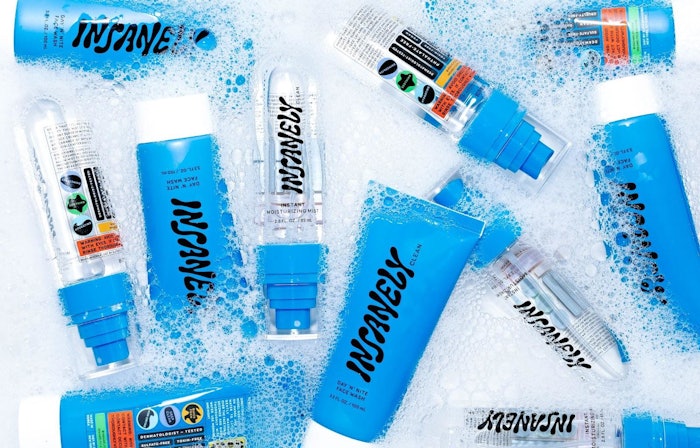 Slate Brands, an incubator behind in-house and Gen Z influencer beauty and wellness brands, has launched in-house men's skin care brand Insanely Clean.
Korea-manufactured Insanely Clean is streetwear-inspired and science-backed , per Slate.
The brand's initial launches include the Day 'N' Nite Face Wash ($21) and Instant Moisturizing Mist ($23).
The wash features a twist-to-open cap with a creamy, quick-foaming formula, while the mist reportedly provides an instant surge of refreshing moisture with a spritz.
Both SKUs comprise the brand's Y-7 Vitamin Complex, containing vitamin C (ascorbic acid), vitamin B7 (biotin), vitamin B12 (cyanocobalamin), vitamin F (linoleic acid), vitamin B3 (niacinamide), vitamin B5 (pantothenic acid) and vitamin E (tocopheryl acetate).
The SKUs are available at at insanelyclean.com, slateland.com and Amazon.com.
In addition, Insanely Clean is supporting Project Extreme, which works with young men to raise awareness and address mental health concerns.
The brand was born of ongoing dissatisfaction among men when it comes to skin care. This is backed up by recent survey data from Global Cosmetic Industry author Denise Herich, who noted, "Men are looking for that perfect facial skin care product. Twenty-seven percent of men don't feel that their current facial skin care concerns are being adequately addressed by the products they use. In particular, 33% of men don't feel their moisturizer is working for them, 33% don't find their products for dark under eye areas or bags to be sufficient, and 28% believe their products to address fine lines and wrinkles are lacking."
"We conducted extensive, in-depth market research, including panels, focus groups and various rounds of interviews, to ensure we're bringing a skin care line to market that adds a unique point of view and solves a problem," said Judah Abraham, founder, Slate Brands. "We found men are interested in the benefits of skin care but are often left confused or unsatisfied with generic products. Insanely Clean is our answer. Devoid of the obvious elements you tend to see in men's grooming, we painstakingly ensured its convenience and efficacy in product design and formulation. Great skin, without the hassle."
Slate Brands has another in-house brand, Modern Magic, coming soon. Its influencer-backed brand collaborations include Active Beaut-E, ME Nails, Evolove, Mirrored Image and the forthcoming Vagitaminz.