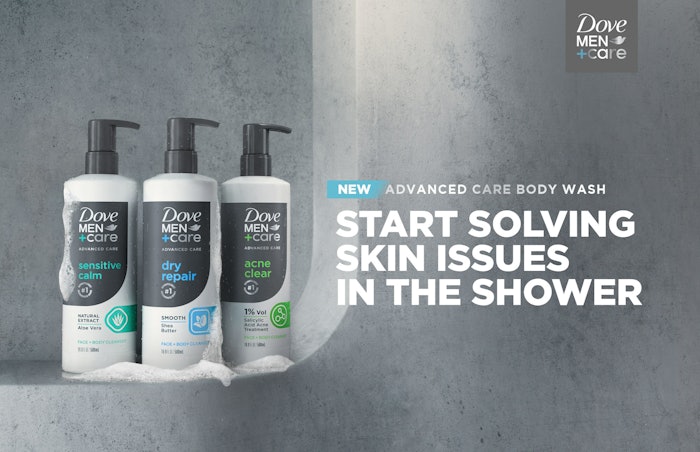 Dove Men+Care has debuted its Advanced Care Face + Body Cleansing range to help solve men's top skin concerns beginning in the shower.
The range is said to help the skin by naturally repairing its barrier rather than just cleanse.
It is formulated with triple-action moisturizers that activate in the shower and infused with ingredients such as aloe extract.
Dove Men+Care created Advanced Care based on specific insights about men's skin composition and needs.
For example, men produce double the amount of oil from their skin versus women and men have larger pores, which makes men's skin more prone to acne. Additionally, frequent shaving and rougher skin texture lead to increased dryness and irritation.
Products in the collection include:
Dove Men+Care Advanced Care Dry Repair: This gentle cleanser, infused with smooth shea butter, helps to hydrate and restore dry skin. It's formulated with the brand's most advanced moisturization system ever—attracting moisture to the skin even after use—and has a warm, masculine scent.
Dove Men+Care Advanced Care Sensitive Calm: Infused with natural extract of aloe vera, this mild cleanser helps calm dry, irritated skin. It's formulated with active skin nourishers and a hypoallergenic fragrance.
Dove Men+Care Advanced Care Acne Clear: A first-ever launch for the brand, Acne Clear is a gentle cleanser containing 1% salicylic acid. Paired with active nourishers and a minty, masculine scent, this cleanser penetrates pores to reduce and prevent the number of acne blemishes.
 Advanced Care Face + Body Cleansing is available at Walmart, Target, CVS and Walgreens.
Brent Lukowski, senior brand manager, Dove Men+Care at Unilever, said, "We found 4 out of 5 men are interested in purchasing a product like Advanced Care, which shows women are no longer the only ones seeking advanced skin care solutions. We hope men find an offering within Dove Men+Care Advanced Care Face + Body Cleansing collection that becomes their go-to. It's a brand they know and trust—and better addresses their specific preferences than gender-neutral or female-focused products that they see on-shelf."
Evan Rieder, M.D., a board-certified dermatologist in New York, who partnered with Dove Men+Care to help launch this collection, said, "I speak with a lot of men about their skin and the concerns they have: acne-prone skin, sensitive skin, dry skin. They're looking for answers and often can't find them at their local retail stores. This Dove Men+Care Advanced Care launch is the solution that men have been looking for—and at an affordable price point."