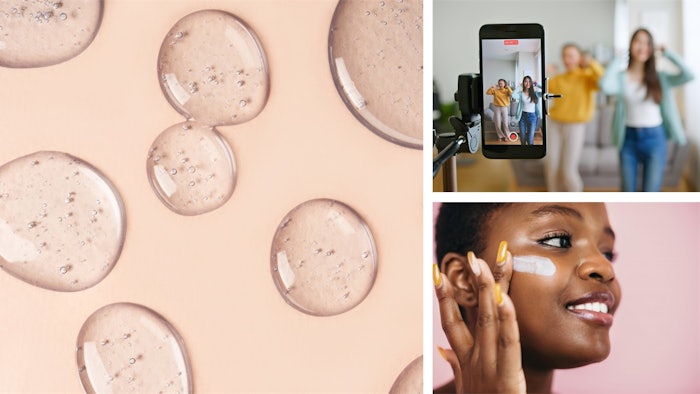 Skin care remains beauty's most dynamic category. Q1 2023 skin care prestige and mass sales growth was almost equal, totaling 11% and 10%, respectively, according to Circana.
Facial skin care mass market sales grew 13% in the period, while prestige facial care grew 10%. Meanwhile, echoing an ongoing trend, clinical brands grew faster than natural brands in the prestige sector, driven by an array of new launches.
These results reflect not only the robust growth in the beauty sector, but also key trends driving consumer-preferred launches.
These will be the subject of the forthcoming Beauty Accelerate Virtual event, featuring live and on-demand briefings on market data, ingredients, product development trends and more.
Here are 6 highlights that attendees will have access to. 
>>>REGISTRATION IS NOW OPEN FOR LIVE/ON-DEMAND ACCESS.<<<
Attendee pricing is designed to be accessible for indie and major brands alike. Contact us for special group rate discounts.
1. Understanding Skin Care's Halo Effect
Solidified during the pandemic when consumers invested time and money in skin care routines, skinification is rapidly spreading across the beauty and personal care industry.
Growing self-care and wellness behavior encourages skinification in hair care, while U.S. consumers increasingly expect color cosmetics to not only provide aesthetic benefits but also treat skin concerns and improve skin health.
The rise of skinification coincides with the democratization of educational content on social media apps, especially TikTok.
As inflation and rising costs of living pressure U.S. consumers in 2023, skinification is becoming a key tool in value creation strategies.
This will be the subject of "The Skinification of Beauty," an exclusive briefing from Euromonitor's Olivia Stelmaszczyk, who will provide insights and innovation opportunities for brands and their innovation partners in skin care, hair care, color cosmetics and beyond.
2. The Exposome & Aging
Aging and skin health are impacted by the entirety of our exposome—the totality of exposures to which an individual is subjected throughout their life, including from the sun, pollution and climate change, as well as chemical and physical manipulation from skin and hair care routines.
This has implications for product formulations, beauty routines, marketing and education, and much more. During Beauty Accelerate Virtual, Mintel's Anna Keller will present "Holistic Beauty," a briefing that will consider mechanisms of aging and skin health from a holistic perspective.
Keller's presentation will consider facets including circadian rhythm, hormones, emotional states, stress and more, and explore ways to maintain balance for beauty. This session will be a must-attend for product development teams, marketers, brand leaders and their innovation partners.
3. Skin Cycling
Spate recently listed skin cycling among its top 10 skin care trends of 2023.
Popularized by dermatologist Whitney Bowe, MD, "the classic skin cycling routine consists of a four-night schedule. Night one is exfoliation, night two is for retinoids and nights three and four are recovery nights, where you focus on hydration and barrier repair. Once you finish the cycle, you repeat the process."
Having ascended over the last year, the concept continues to dominate TikTok feeds.
But how can brands implement the learnings from skin cycling's popularity in brand R&D and marketing innovation? Evonik's Alexandra Mozina and Eric Ginsburg, Ph.D. will offer some answers during their forthcoming Beauty Accelerate Virtual talk, "Skin Cycling."
Skin cycling is a simple alternating method whereby active ingredients are applied one night, the speakers explain. Skin is allowed to recover the next, promising to avoid over-exfoliation and irritation. Such a method could guide self-educated consumers who might be using the wrong type of (or too many) products on their skin, as well as educate those new to skin care actives.
4. Waterless Skin Care
Innovations in skin care have mostly been on the ingredient side of the industry ... until now. Meet Bōshi beauty, a waterless skin care delivery system, made with nanofiber technology.
Hyaluronic acid is among the most talked about ingredients online and in social media. New ingredient technologies are pushing the bounds of the technology in the beauty sphere. For example, TaikiUSA's Bōshi Fiber uses a nanofiber manufacturing process to create dissolving delivery system for waterless products, cutting out the need for emulsifiers, fillers, modifiers and other additives.
The Bōshi Nano Strip range includes a hyaluronic acid moisture booster and blemish preventer. The booster is formulated with sodium hyaluronate, which ensures quick and effective delivery of moisture with reportedly no preservatives.
It can be paired with a moisturizing toner for double-duty delivery of actives and hydration. And that's just the start of it.
Laura Frazier, chief scientist, TaikiUSA, will provide a deep dive into this sustainable, innovative technology during her forthcoming Beauty Accelerate Virtual talk, "Nanofibers as Advanced Waterless Delivery Systems."
5. Tackling the Intersection of Skin Care Science & Influencers
Skin care is arguably the most popular market in the beauty industry with an estimated value of U.S. $30.5 billion in 2021, according to Grand View Research. It is also no stranger to the influence of social media.
In fact, per Statista, when buying beauty products, 74% of Gen Z has been swayed by influencers; this was also the case for 66% of millennials and 34% of the baby boomer generation.
The staggering percentile increases between generations is an upward trend that implies the growing control of social media influencers over the market. As a result, the industry has never experienced such a churn in trends; from slugging and flooding, to cycling, dopamine beauty and more.
But how do these practices affect skin? And how should brands respond to this moving target?
Zoe Diana Draelos, M.D., clinical and research dermatologist, Dermatology Consulting Services, will consider these questions during the session, "How Influencers Influence Skin - and How Brands Should Respond," featured during Beauty Accelerate Virtual.
This session will delve into trends such as slugging/flooding, cycling, dopamine beauty, retinol sandwiching, reverse skin care, skin-deep health, microbiome care/immunity, salmon sperm, Jello skin, red light masks, baby Botox and the like.
Attendees will come away with new insights on the influence of social media trends on both skin and product development.
6. Holistic Anti-aging
Consumers continuously face the twin pressures of time and environmental aggressors when it comes to their skin care concerns. And their go-to solution is anti-aging skin care.
A recent survey found that 98% of women agree that taking care of your skin at an early age is the best anti-aging approach, while 94% believe a regular skin care routine will help prevent visible signs of aging. It's not just older consumers who focus on the prevention and treatment of aging. In fact, 37% of Gen Z respondents ages 18-26 already use anti-aging skin care.
Furthermore, 58% of Gen Z respondents who now buy anti-aging products say they first started to have anti-aging concerns at about age 23, compared to older shoppers who first experienced these concerns at age 35.
That's why Beauty Accelerate Virtual will host "Cutting-Edge Science in the Service of Skin: performance ingredients to fight aging and counter direct environmental exposure," an exclusive briefing from Nadine Pernodet, Ph.D., senior vice president at The Estée Lauder Companies (ELC), who will discuss holistic views of aging and the beauty technologies that can address them.
Aging and skin health are impacted by the entirety of our exposome, Pernodet notes, including internal and external factors constantly in flux. This talk will consider mechanisms of aging and skin health from a holistic perspective. It will also consider facets of our being such as circadian rhythm, emotional states, stress and more, and explore ways to maintain balance for beauty.
>>>REGISTRATION IS NOW OPEN FOR LIVE/ON-DEMAND ACCESS.<<<
Attendee pricing is designed to be accessible for indie and major brands alike. Contact us for special group rate discounts.