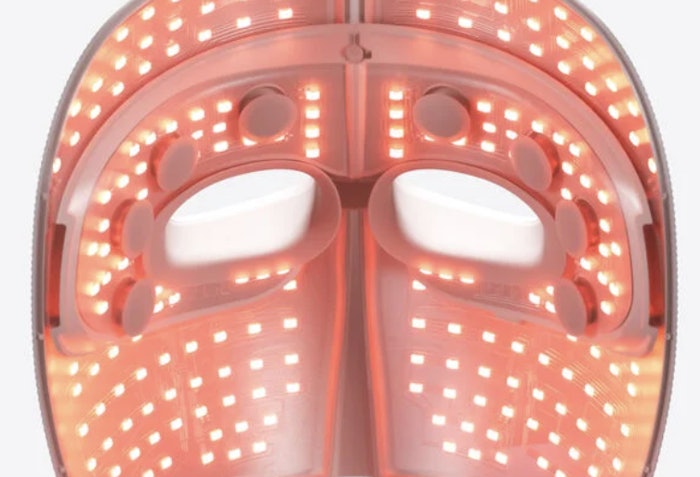 Therabody product page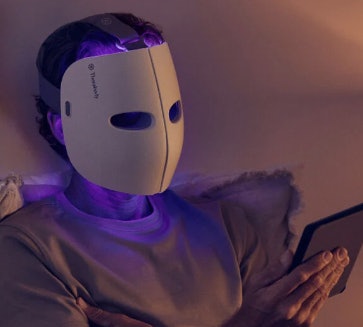 Therabody has unveiled a new Therabody Beauty business division in conjunction with its new LED-driven light therapy TheraFace Mask.
Designed to reduce the signs of aging while firming the skin and increasing radiance, the mask comprises 648 medical-grade red, red + infrared, and blue LED lights, offering full-face coverage.
It also features added vibration therapy for improved relaxation.
The mask operates in 9-minute one-touch preset cycles that run through the three light therapies in 3-minute increments. Any single 3-minute light therapy can be run in isolation, as can a 15-minute vibration-only treatment.
The design features removable protective eye shields and adjustable straps for a hands-free experience that allows users to multitask.
According to the brand, a 12-week independent clinical study that included 31 participants between the ages of 39 to 64 concluded that TheraFace Mask improved the appearance of fine lines and wrinkles, firmed skin and reduced sagging, smoothed texture, increased luminosity and radiance, lightened dark spots, and revealed radiant, healthy skin. 
Research was conducted by Media Lab Science.
The mask retails at Therabody.com, Neiman Marcus, Bloomingdale's and Best Buy.
"From the time we developed our first Theragun, I wanted to use LED therapy," said founder and chief wellness officer, Jason Wersland, DC. "LED can help heal and repair tissue, which is why we were exploring LED in the first place."
"As a Therabody investor with a known passion for technology, it's incredible to see Therabody innovating with LED," said Karlie Kloss, supermodel and founder of Kode with Klossy,. "Therabody continues to empower people to get the benefits of medical grade beauty treatments at home."
"With in-house technology and science teams, Therabody is committed to finding ways to apply technology to real human problems, whether it's lower back pain or wrinkles," said Monty Sharma, president and CEO. "The TheraFace Mask innovation is one more way we're proving our commitment to creating non-invasive, safe wellness tech that helps people feel and look their best."