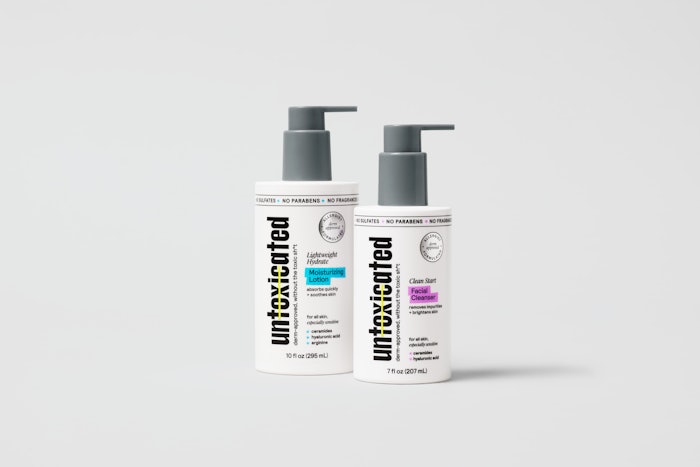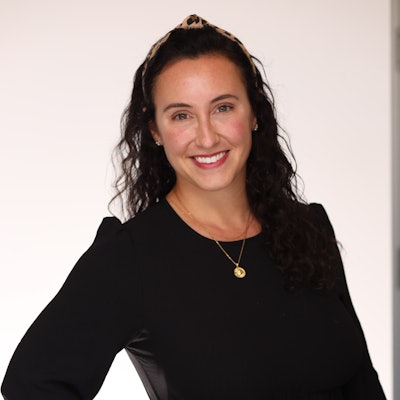 Sensitive skin is a perennial target of the skin care industry, spurring product and ingredient innovation and inspiring ingredient blacklists. Now, Untoxicated, a sensitive skin care brand founded by Cleveland Clinic allergist and immunologist, Martin Smith, MD, and former Vaseline and mindbodygreen executive, Annie Stansik, seeks to bring the mass sector an allergen-free, science-backed skin care line with pricepoints ranging from $18 to $24.
Stansik says, "Our ambition is to elevate the standard for sensitive skincare and redefine the large and quickly growing clinical skin care category by demonstrating that high quality, effective products—whether you're sensitive or simply seeking basic, non-irritating care—should not require a small fortune to purchase and be enjoyable to use." 
The brand is overtly challenging CeraVe and similar brands with its launch, arguing that such category stalwarts were still causing allergic reactions among consumers. It arrives at a moment when dermatological beauty is on the rise.
While the brand is launching direct-to-consumer via its e-commerce site, Stansik says, "[I]n order to fully realize our brand ambition, we are focused on becoming accessible to every individual who could benefit from Untoxicated, whenever and wherever they're in need. A critical aspect of this will require expanding our distribution footprint by gaining presence on the online storefronts and physical shelves of every major retailer—domestically and abroad."
In the near-term, however, she says, "As a next step in this journey, we are launching on Amazon as of this fall."
Similar to traditional "clean beauty" practices, Untoxicated has made much of its "ban" on 1,500 ingredients it calls toxic, particularly a core group of 128 materials Smith argues are "responsible for 99%" of skin reactions.
The launch comes amid a general simplification of beauty and grooming formulas industry-wide.
The brand has launched with two SKUs, the Clean Start Facial Cleanser and Lightweight Hydrate Moisturizing Lotion. The brand has also teased future launches, including the Moisture Boost Hydrating Cream and Blank Slate Micellar Water.
The brand's formulations are reportedly U.S.-manufactured; pH balanced; hypoallergenic and non-comedogenic; and vegan, Leaping Bunny and PETA certified.
To get a sense of the brand's formulation strategy, the cleanser's ingredients are: water, glycerin, disodium cocoyl glutamate, xanthan gum, ceramide AP, ceramide EOP, ceramide NP, sodium hyaluronate, sodium cocoyl glutamate and phenoxyethanol.
Of the ingredient decks for its products, Smith says, "[O]ur hero actives, like hyaluronic acid, ceramides, glycerin and glycolipids, are not only highly effective but won't interfere with other skin care products."
Stansik tells Global Cosmetic Industry, "Whereas today's gold standard 'sensitive friendly' and 'dermatologist recommended' products commonly contain several toxic and skin-irritating ingredients—and often attempt to 'address' inflammation and sensitivity through the addition of 'skin soothing' ingredients—Untoxicated takes a different approach."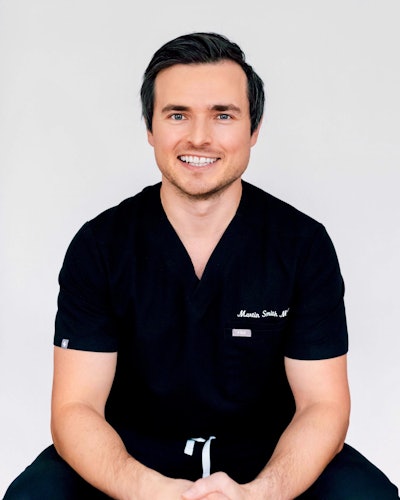 Smith notes, "When my patients asked me why no single brand was free of ingredients that inflame and irritate their skin, I had no answer."
Stansik continues, "We spent three-plus years pouring over medical research to identify, isolate and eliminate the toxins and allergens that trigger irritation, inflammation and sensitivity in the first place, and creating formulas that only use ingredients that have scientifically proven as safe & effective for even the most troubled and sensitive skin. Our limited ingredient (and clinically demonstrated) formulas include only what skin needs to thrive—without the unnecessary extras."
Stansik adds, "'No BS' is central to our ethos: We believe that a meaningful contributor to the epidemic of skin sensitivity today is the mis- and misleading information we've been fed over the years, combined with the difficulty of accessing adequate care. As such, we are focused on providing affordable products and sharing digestible, science-backed information—delivered in a manner that is accessible, for anyone."
Smith, meanwhile, argues that skin care as a category hasn't "been meaningfully updated in decades."
He explains, "Their products are failing to adequately serve a meaningful portion of their audience—and, in some instances—are outright exacerbating their skin issues. These products, formulated decades ago, contain not just one but several ingredients that have since been proven to exacerbate, if not outright trigger skin inflammation, irritation and sensitivity reactions. This includes ingredients such as fragrances, parabens, cocamidopropyl betaine and propylene glycol—all named 'Allergens of the Year' by the American Contact Dermatitis Society."
Smith adds that category challenges are also a matter of presentation and positioning: "[Established] brand identities are missing the mark with many of today's consumers. On top of antiquated product formulas, the brands themselves are overly clinical and dated: try-hard white-haired MDs in lab coats providing paternalistic guidance with blue and white strewn everywhere. A stark contrast to today's consumers—who still seek trust and authority, but are vibrant, discerning and values-driven—and gravitate toward brands in alignment with this."