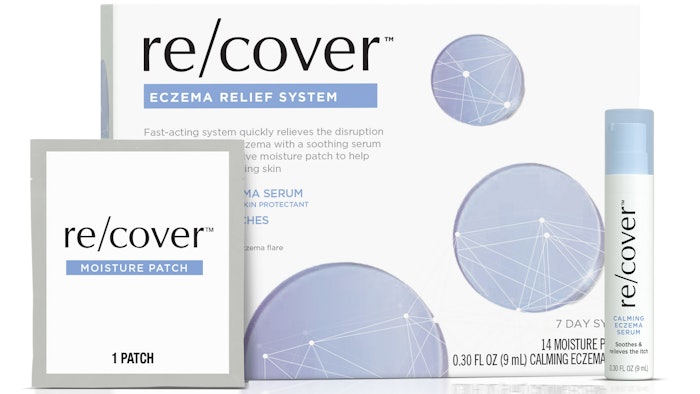 Kao USA Inc.'s new OTC brand, re/cover, comprises a two-step steroid-free eczema treatment.
The first step, the Calming Eczema Serum, is formulated to relieve the itching associated with eczema, featuring horse chestnut and allantoin to diminish sensitivity. The serum also comprises colloidal oatmeal to further soothe the skin.
The second step, the Moisture Patch, features Kao's Fine Fiber technology, which comprises an ultra-thin membrane inspired by electrospinning tech. The patch is applied to the treatment area after the Calming Eczema Serum, offering a transparent, breathable "second skin" hydrating barrier that disappears over time.

The barrier, which leverages no traditional adhesives, protects the treatment area and seals in vital moisture. The patches can be worn for up to eight hours.
Users apply the two-step system throughout a seven-day regimen, which features the serum and 14 patches (one for daytime use and one for nighttime use).
The system will launch November 1, 2023 on recoverskincare.com for $39.99.
"The launch of re/cover is a milestone moment for Kao," said Karen Frank, president, consumer care business, Americas and EMEA. "We are the first to bring this innovative system to the U.S. market. It underscores our unwavering commitment to revolutionizing eczema care and maintaining our leadership in therapeutic skin solutions. With re/cover, we're not just changing the game; we're setting a new standard for excellence in skin care."