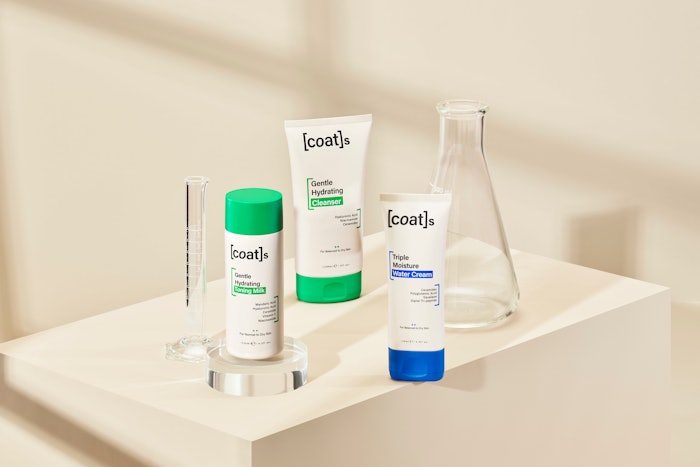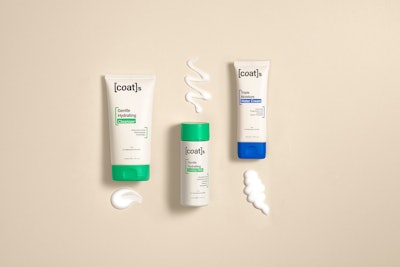 [coat]s has launched a new direct-to-consumer e-commerce site in the United States and has launched at CVS Pharmacy and Amazon, marking its debut in the region.
The Gen Z-focused skin care brand was "born from [an independent] collective of skin experts, chemists and dermatologists from the Skin Health Alliance," according to [coat]s, and was designed to provide newbies with effective three-step routines tailored to their particular needs, including breakout prevention and skin barrier protection.
"Almost every day in my clinic, I see patients who are potentially damaging their skin barrier with products that were never designed for them," said Hugh Lyford, MD, FAAD, a board-certified dermatologist at the Skin Health Alliance. "In reality, a lot of products are designed for skin with specific concerns, and these can end up doing more harm than good. The key is to use products that are Dermatologically tested and clinically proven to protect the skin barrier."
"At the Skin Health Alliance we firmly believe it is everybody's right to feel confident in their skin," said Matthew Patey OBE, managing director at the Skin Health Alliance. "That's why we are proud to partner with [coat]s. Our experts have independently reviewed the science underpinning the [coat]s formulas and assessed their range for skin safety and ensuring it delivers the benefits stated. As well as proving their products were worthy of our professional dermatological accreditation, [coat]s also shared that they had listened to people's concerns about how what they use on their skin should also complement the world around them. They met this challenge by using ingredients and packaging that aligns with these environmental concerns resulting in quality dermatologist approved products that people can use with confidence."