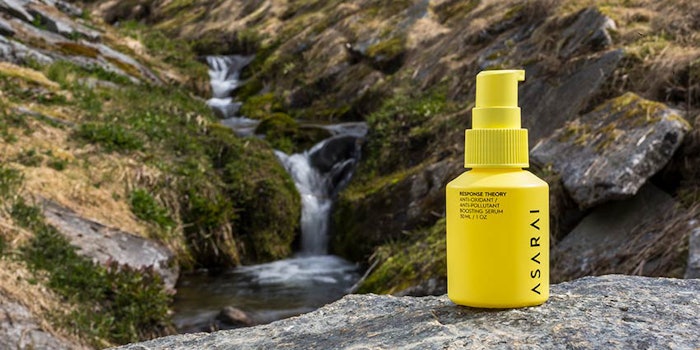 Asarai is a Los Angeles-based, gender-neutral skin care brand inspired by Australia's natural bounty of unique botanicals. The brand, packaged in a signature shade of bright yellow, currently comprises a daily cleanser and concentrated serums appropriate for all skin types.
The Founder Story
Asarai was founded by Jay Rynenberg and Patrice Rynenberg, an Australian husband-and-wife team, and Jay's mother, Trish Rynenberg.
When Trish was diagnosed with an autoimmune disease in 2002, she left her corporate life to study naturopathy, nutrition, Western herbal medicine, iridology and natural skin care. She applied her knowledge to understanding ingredients and began to produce natural soaps, shampoos and skin care for herself and her family. A brand was born.
Slideshow: 23 Australian Beauty Brands to Keep on Your Radar
"At our core, we believe nature has the power to nurture a lifestyle that is happy, healthy and vibrant," says Jay Rynenberg. "My family experienced how healthy and natural ingredients transformed our lives, and we are so excited to share this with others. We designed Asarai to speak to this belief in a multitude of ways starting with our natural ingredients, all the way through our bright yellow packaging to act as a daily reminder for self-care."
The Target Consumer
Asarai's formulations are gender-neutral and packaged in a sporty, cheery shade of yellow. The Rynenbergs are focused on reaching consumers age 18 to 35 with a holistic outlook on healthy lifestyles and a desire for natural, authentic brands. 
The Products Asarai represents the scaling of up of Trish Rynenberg's product concepts. The formulations are reportedly made with 99-100% natural ingredients, and offer 12 months of shelf life. Manufactured in Australia, the initial line includes:
Come Clean Cleanser ($29.95), a gel cleanser that can remove mascara and other makeup using a gel-to-milk technology. The cleanser is formulated with sunflower seed oil, which is rich in vitamins A, C and E, vitamin C-rich Kakadu plum, and linden flower.
Ultralight Moisturizer ($49.95), which contains shea butter, cocoa butter, almond oil, Kakadu plum, green tea and linden flower to diminish the appearance of aging caused by free radicals and decrease collagen breakdown.
Earth Tones Mask ($28.95), a detoxifying and brightening concoction of red clay from the Australian outback.
Power Trip Oil ($49.94), an anti-inflammatory serum comprising antioxidant-rich moringa seed oil, as well as sunflower seed oil, camellia oil, tocopherol acetate, ascorbic palmitate, linoleic acid, sandalwood and sweet almond oil.
Sleepercell Retinol Serum ($44.95), which conditions the skin, corrects imperfections and reinforces cell defenses with a mixture of retinol (vitamin A), sodium hyaluronate, Chrondrus crispus, oat extract, ginger, Kakadu plum and tocopherol.
Response Theory Serum ($42.95), an antioxidant-rich, radiance-boosting serum that enhances cell repair with a mixture of Chondrus crispus, hyaluronic acid, oat extract, ginger, Kakadu plum, bisabolol and cocoa butter. 
The Ingredients
The Rynenbergs built Asarai around Australia's unique natural botanicals, including:
Kakadu plum (Terminalia ferdinandiana), one of the world's richest naturally occurring sources of vitamin C; the tree grows wild in harsh conditions, which accounts for its high vitamin C content
Chondrus crispus seaweed extract, which improves product viscosity, while offering a rich mix of vitamins and minerals
Linden flower, which can protect the skin against the signs of aging and sun exposure
Red clay
White kaolin clay
Jay Rynenberg tells Global Cosmetic Industry that it was a challenge to scale up Trish's home-spun natural formulations, while ensuring they remained reliable and safe. The project began with 12 product concepts, which was gradually narrowed down to the current slate of six SKUs.
Part of the challenge came from sourcing. While plants such as the Kakadu plum are hearty and grow in abundance in the wild, other ingredients are tougher to scale or require extensive lead times.
Retail Rollout
Though born and manufactured in Australia, Asarai's initial range is available exclusively at www.asarai.com, with shipping within the United States.
What's Next
The Rynenbergs are gathering data on which products are resonating with consumers, including their reactions to the extreme color of the red clay and the raw scent of its natural formulations. In the future, Asarai is poised to expand its wellness focus from the skin to a more holistically balanced lifestyle brand.