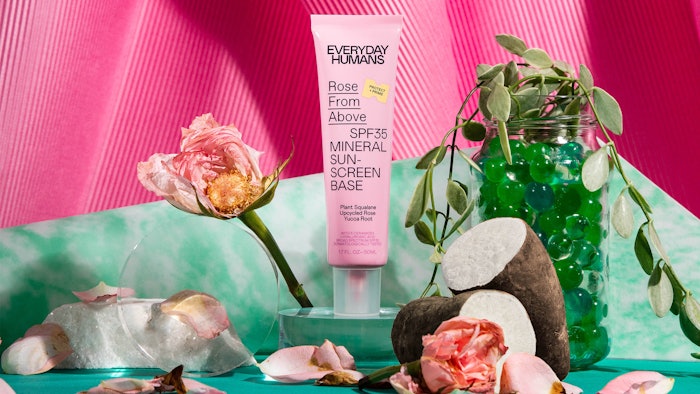 Everyday Humans has launched the Rose From Above SPF 35 mineral sunscreen made with upcycled rose extract. It is designed to be a moisturizing primer for makeup, provide protection from UVA and UVB damage, and support the skin barrier.
Related: Malin+Goetz Releases SPF 30 Mineral Sunscreen
Rose From Above is the brand's second upcycled skin care product following the launch of the Ease Up PHA Watery Oil Cleanser in February 2022, which is formulated with upcycled fig extract from discarded fig fruit and fig stones. Rose From Above is formulated with upcycled rose oil distilled from exhausted rose petals.
The mineral sunscreen also contains non-nano 15.7% zinc oxide, plant squalane, ceramides and antioxidants, including yucca root, desert sand verbena and Jacob cactus. Rose From Above is designed to nourish and condition the skin while protecting it from sun damage, pollution and other environmental aggressors.
Everyday Humans Rose From Above will launch on April 28; a pre-launch waitlist is available at everydayhumans.com.
Chen Pienaar, founder of Everyday Humans, said, "Upcycling is increasingly being recognized as an innovative way to lessen waste and reduce energy consumption, both in the beauty sector and beyond. We're thrilled to be one of the first sunscreen brands to incorporate upcycled ingredients in our formulas."
Pienaar continued, "As a sustainable skin care brand, minimizing our impact has always been our ethos. We started by using ethically sourced ingredients and recycled plastic packaging and have been looking for new ways to innovate in our category to push our eco-agenda forward. Incorporating sustainable and upcycled ingredients in our formulations is our way to do just that."