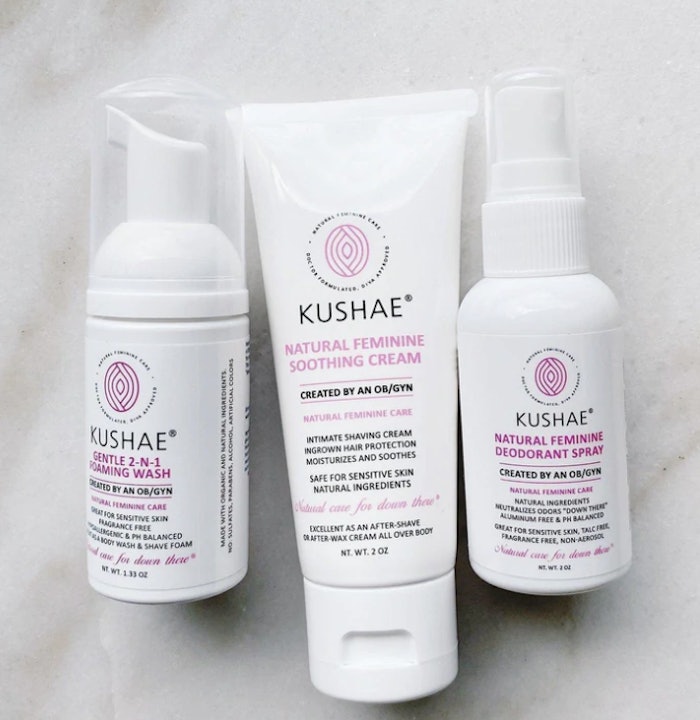 Feminine care brand Kushae has raised $1.25 million in seed funding, placing its co-founders, board-certified OB/GYN Barbara McLaren and entrepreneur Kimba Williams (who serves as CEO), among the first 100 Black women to surpass the $1 million funding milestone.
Investors include Fearless Fund, TiE Global Angels, TiE Access, TiE SoCal and Tech Coast Angels - San Diego.
Report: Feminine Care 2.0
The brand was founded in 2018 and features natural and plant-based ingredients. It retails at Kushae.com and on Amazon, among other e-commerce retail partners. Kushae is also sold at Whole Foods.
"We are thrilled to be among the first 100 Black female founders to successfully raise over 1 million dollars in seed funding," said Williams. "When Dr. Barb and I created Kushae we had big aspirations to make an impact on the feminine health category, but we never dreamed that so many visionary venture capitalists and angel investors would join us on our mission. We look forward to launching new products, growing our team, and ultimately helping more women optimize their daily feminine care…one 'kushae' at a time."
Related: New Seed Funding for Mad Rabbit
"I'm proud to be an early investor in Kushae," said Arian Simone, general partner and CEO of Fearless Fund. "The feminine wellness category desperately needs products that women can feel confident in from both an efficacy and safety standpoint, and Kimba and Dr. Barb have successfully created a line that does just that. To support this company and these amazing co-founders was easily aligned with our mission and a no-brainer."