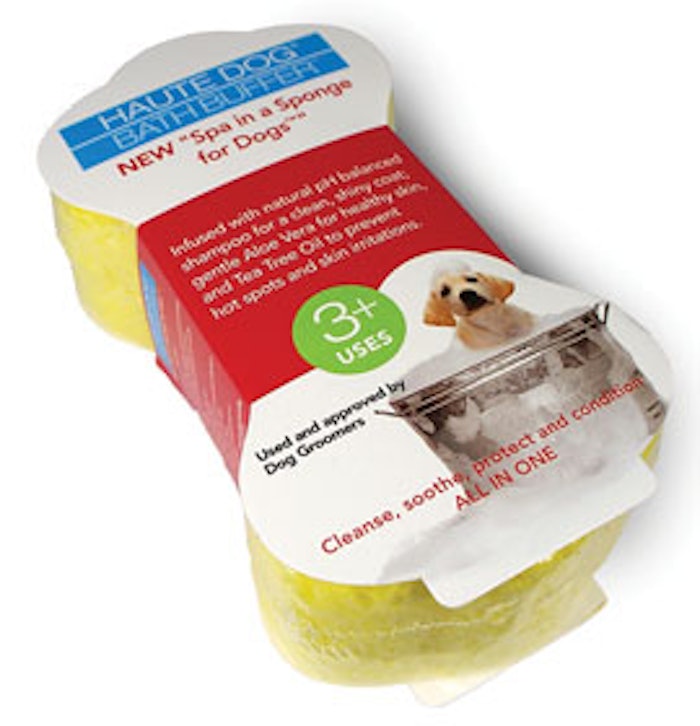 Spongeables, LLC
By diversifying her company's products, Elaine Binder, president and co-founder of Spongeables LLC—a manufacturer of human bath body buffers, recently emerged in the pet care market via the launch of Haute Dog Bath Buffer, a spa in a sponge for pets. She discusses with GCI magazine the experience of opening up new retail and distribution opportunities through the line expansion.
GCI: What were the benefits to brand line expansion for Spongeables LLC into the pet bath and body care segment?
Elaine Binder: Spongeables LLC is known for producing high-quality body buffers for humans. We have a new patent-pending technology that allows us to infuse ingredients directly into a specific matrix. In the case of our Spongeables and Spongelle products, we use a variety of cleansing gels, skin care ingredients and fragrances that are infused into a body buffer matrix. We can provide a guaranteed number of uses for each product and a specific mix of ingredients with every use. Our technology is so versatile; we've always been aware that there are applications beyond personal grooming. Once we established ourselves, we were ready to explore new products and new distribution streams outside of the beauty/bath/personal care arena. As a pet owner, I was aware that the same things that make our personal grooming products appeal to people were exactly the attributes that I wanted in a pet product. By creating Haute Dog Bath Buffers, we were able to develop an entirely separate and independent brand, in a brand new field. We diversified our products and opened up new retail and distribution avenues without the risk of self-competition or forcing any existing products into premature obsolescence.
GCI: What's the consumer appeal of the pet care segment, and who is buying such products?
Elaine Binder: The appeal of this particular market is its size and eagerness to accept good new products. Dog lovers want the best for their animals. They are informed and enthusiastic, and they tend to be quite product-savvy. If you have a good product, they'll recognize it, and you don't have to reinvent the wheel explaining your formulations to them. The market isn't easily defined, and there really is no typical dog owner. Everyone with a dog is a potential customer for flea powders and preventatives, shampoos, breath remedies... the whole gamut of pet care, whether they make regular or just occasional purchasers. They also tend to cross traditional product lines. A cost-conscious dog owner who shops by price will occasionally make the leap to ultra-pampering, high-end products and vice versa. The market is also diverse in terms of retail outlets. Dog products are sold everywhere from the most exclusive canine and human spas, to department and specialty stores and boutiques, supermarkets and chain stores. An exceptional product at a good price point can find its way along that entire highway. We designed Haute Dog to have a lot of marketing flexibility and potential. The price is an affordable $5.99, but the ingredients are high-end, and the formula is designed to give someone's pampered pet a beautiful coat, clean and healthy skin, an appealing fragrance and as angst-free a bathing experience as possible. We can present Haute Dog at every level without any tweaking or changing the product, the formula or the design.
GCI: What are some challenges that your company has encountered regarding expanding into pet care?
Elaine Binder: We wanted a pet-friendly product that was easy for humans to use. We explored a variety of shapes and sizes before hitting on one that was so obvious and so perfect, we almost overlooked it. The traditional dog biscuit bone shape glides off the animal's back easily, provides a good handhold for the human and gives us sufficient size to infuse enough ingredients for a cost-effective number of uses. Once we developed a dog-appropriate formula and settled on the appropriate design, we were able to use our existing retail and distribution contacts to open a few doors for us.
GCI: What are the best retail channels for selling/distributing pet care products?
Elaine Binder: The biggest chunk of sales comes from the chain stores. Discount stores, the big multi-purpose drug chains and discount pet suppliers such as PetCo and PetSmart represent the largest block of sales potential. But pet products are also being seen more and more frequently where personal grooming products for people are sold. Spas and salons have pet sections, almost like "mommy and me collections." If the product is appropriate, any shop like Sephora could someday be a potential retailer. Right now, we are focusing our sights on the chain stores, pet stores and pet grooming/boarding facilities. Once we open up this relatively new area for us, we can explore more creative placements.
GCI: What regions of the world are the most lucrative for brands selling pet care?
Elaine Binder: Right now, we aren't looking beyond the North American marketplace. This is our first venture outside of personal grooming, and we're viewing it as a learning experience. With our personal care products, we used trade shows and international distribution networks to place our products in the global marketplace. Europe is probably equal to the U.S. and Canada in terms of pet obsession. Going by the statistics alone, you see that the global market is tremendous. There are about 43 million dog owning households in the U.S. and about 78 million pet dogs. In the U.K., half of the population owns at least one dog, accounting for about 8 million animals. The French and Spanish are famous for their affection for their dogs. Even in Japan, the hunger for dog companionship is so great that space-challenged urbanites go to "rent-a-pet" centers where they hire dogs for a day's worth of companionship. We're going to focus on Europe, the U.K. and the North America as our target markets. Given their size and their growth, they should keep us busy for a good while.
GCI: What types of ingredients and fragrances are best (or worst) for pet care products?
Elaine Binder: I prefer simplicity when it comes to grooming products. Dogs have surprisingly sensitive skin. Aloe vera is a soother, it helps reduce hot spots, it's a skin and coat conditioner and it moisturizes and promotes healing. Tea tree oil is a very effective antiseptic and antifungal ingredient. We were aware that there's some talk about tea tree oil being toxic, but this is simply not correct if you are dealing in appropriate doses. Like most things, too much of a good thing can be bad. Tea tree oil is effective at very small volumes, so we are absolutely within the safety range. There's simply not enough of the tea tree oil in our product to produce a harmful reaction, even if your dog were to eat the Haute Dog, which we do not recommend, by the way. In terms of other ingredients, it's important to remember that they should be pH-balanced for that particular animal. Harsh soaps are out; they'll dry out the coat, irritate the skin and burn the eyes. A gentle gel like the one used in Haute Dog is easier on the animal, cleans the fur and skin thoroughly without drying, and will result in less stress for the bather and the bathed. Human shampoos aren't made for dogs and should never be used on a pet. Detergents and dishwashing liquids are also inappropriate.
GCI: What are the marketing claims you offer for these pet bath and body care products to address their health or wellness issues?
Elaine Binder: Haute Dog is not a health product per se, but it will promote a dog's overall comfort and wellness. By reducing his risk of fungus, skin irritations and infections, hot spots and other common, painful and annoying conditions, you have a happier and overall, a healthier dog. Haute Dog is not a treatment for dogs with damaged skin or severe problems like mange or ringworm, but it will prevent these problems and it will also keep the dog smelling fresh, looking its best. A clean dog makes a better companion and is less susceptible to illness and problems.
GCI: What makes your pet care bath and body products stand out from competitors?
Elaine Binder: Haute Dog is the only all-in-one puppy buffer. The doggy biscuit shape is designed for easy holding and easy application. You don't need to juggle a bottle of shampoo in one hand, the washcloth or shower hose in the other hand, while trying to hold on to a slippery and eager to escape wet dog at the same time. Everything needed to shampoo, condition and protect the skin and coat are already infused into the Bath Buffer sponge. You don't have to squirt liquids on the dog, struggle to keep suds out of its eyes, nose and mouth, or risk spilling your shampoo and conditioners. All you do is get the dog in place, add water and hold the dog securely by its collar while gliding the Bath Buffer over him with the other—a quick rinse and it's over. It's not just the convenience of use or the excellent formula that makes this such a unique new product; it's how easy it is on the animal. Nothing else is as stress-free, and nothing else has that essential all-in-one formula.
GCI: Are there products available in the market now for more "exotic" pets other than just cats and dogs?
Elaine Binder: Right now we are focusing on the Haute Dog. With the tremendous market in the U.S., and a global market that's expanding even as we speak, it will keep our hands full as we change the way the world thinks about dog washing. We are going to revolutionize that entire concept—no more cartoons about angry, snarling dogs, dripping with wet soap, and one or two struggling humans trying to get the job done. We're going to show the world that dog washing can be trauma-free, fast and if not exactly fun, at least an acceptable experience for dog and mankind alike. After that, who knows? Why not introduce Haute Ferret or Spongeables for Horses?
GCI: What are some innovative avenues you foresee pet care possibly heading into in the future?
Elaine Binder: Spongeables LLC's proprietary infusion process is so adaptable that there is almost no direction we couldn't take. All of the areas you mention are possible. We can envision medicated Haute Dogs with specific pharmaceutical formulas, or Haute Dog with herbal flea repellant formulas. Products can be created for specific breed requirements, long or short-haired animals, show animals who require the ultimate in coat and skin conditioning, even age-appropriate products for new born pups to elderly pets. Sunscreen products are about to become very important to all pet owners, as they become aware of the risk of skin cancer for pets, particularly light-colored dogs. The Haute Dog sponge matrix makes application and dosage easy. Unlike liquids that can spill or splash, the sponge application is pretty much foolproof, whether you are applying medication on a dog with compromised skin, or sunscreen on your little Chihuahua. Products can be made according to animal size, special needs, for over the counter or pharmaceutical products, for premium or mass market needs. It's an all-encompassing format.
GCI: What other thoughts do you have that you'd like to share with GCI magazine's readers?
Elaine Binder: We have a revolutionary delivery system with our infusion technology. Spongeables and Spongelle are designed to transform the way people think about the morning shower. By adding special skin care ingredients to moisturize, protect, rejuvenate and repair the skin, a massaging/exfoliating texture, special fragrance blends and luxurious lather, combined with a cleansing gel all-in-one, we've created a better, more efficient, and more pleasing way to bathe. We are now bringing this same technology to pet care, to establish better, more efficient and more pet-friendly ways to accomplish any number of pet care and pet grooming requirements, from the simple bath to beyond. Taking it one step further, there is no limit to the number of established routines Spongeables' technology can transform. In terms of personal grooming, we have already launched our body buffers around the world and have recently introduced two new products, one for hands and one for feet. We're exploring a variety of cosmeceutical possibilities, from self-tanning to cellulite treatments. Beyond personal grooming, the technology has potential applications anywhere from household cleaning uses to automotive products, industrial uses. We call our Spongeables concept "Beyond Cleansing" and, quite literally, that's where we envision taking our product.
Editor's note: For more information on growing opportunities in the pet care market, read GCI magazine's November 2008 feature, "Pet Care Pedigree."