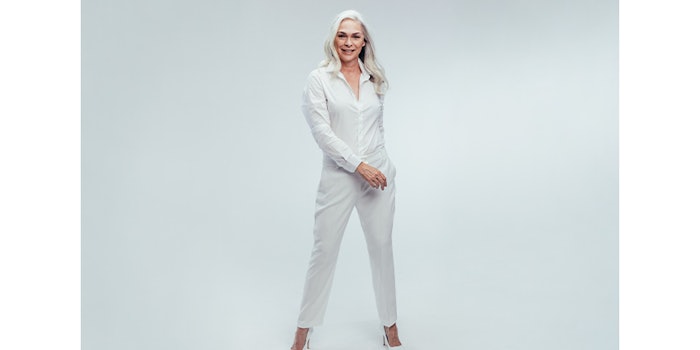 It's not exactly a secret that hair care changes after we turn 40, seemingly by some force of magic. Hormones begin changing and, along with that, your hair may take on an entirely new form and function.
What was once thick, straight and full of color may quickly become thinner, curlier and dull. Frustrating, overwhelming and unbelievable are just a few of the adjectives that come to mind when learning to take care of your ever-changing locks.
But why is it that we feel so helpless? Why does it seem like all anyone ever talks about is young hair? Why is hair care during the middle ages the elephant in the room? 
Previously: State of Addresses Menopause and Perimenopause
Camouflaging Age
Women over the age of 40 typically have very unique hair care needs that aren't addressed nor provided for by most big box retailers. They focus their attention on women between ages 18 and 40, leaving those outside of that range as no more than an afterthought. 
While beauty standards are an ever-changing beast, one thing seems to stand the test of time: Youth. We are consistently being told to look younger, to strive for a youthful exuberance, or that our marks from life are unattractive and should be covered. 
Survey: How Women Really Feel about Beauty, Aging and More
It's assumed that graying hair will be dyed; therefore, all need for silver care goes out the window. This, of course, brings on an entirely new set of tribulations. Once our strands begin to turn gray due to a lack of melanin production, we often take to dyeing.
This is a temporary fix that only further damages the strands by increasing dryness and causing undue changes in texture, leading to a never-ending cycle of dying and treating your locks. 
However, with women everywhere embracing the gray, these effects aren't in play. 
Embracing Change
As we enter our 40s, altered hormone levels lead to physiological changes in our hair. Our scalp begins to produce less sebum, or natural oil, causing our hair to become drier, brittle and more prone than ever to breakage. Our follicles also shrink, leading to thinner strands and a lack of volume. All of this, plus the slowed growth rate, tends to make us think that hair growth is nearly impossible at this age. 
Better Not Younger (BNY), created by Sonsoles Gonzalez, is taking on these needs head-first by formulating a line of products specifically for women over 40. After nearly three decades of holding leadership roles with major companies like Procter & Gamble and L'Oreal, Gonzalez saw a gap in the market when she noticed changes taking place with her own hair. 
With the help of a Massachusetts Institute of Technology chemist, her extensive network and her passion for creating a high-quality line, her vision came to life.. BNY now encompasses products ranging from fortified vitamins to silver color protection, from deep scalp cleansers to shampoos dedicated to growth.. 
In a recent consumer survey, 90% of women agreed that they noticed visible improvement in their hair after just eight weeks of using BNY's hair treatments. 
There are other brands out there who want the best for you and your hair, and trust me when I say drug store brands are not your only option anymore. You can have luscious, luminescent, natural hair past 40, 50 and even 60-plus years old. Don't be afraid; embrace the change, sister, because we are right here with you.
Morgan Allman is a writer and content creator with a degree in biology from Clemson University. She is an outdoor enthusiast who is passionate about health and wellness, currently living in the mountains of Colorado.