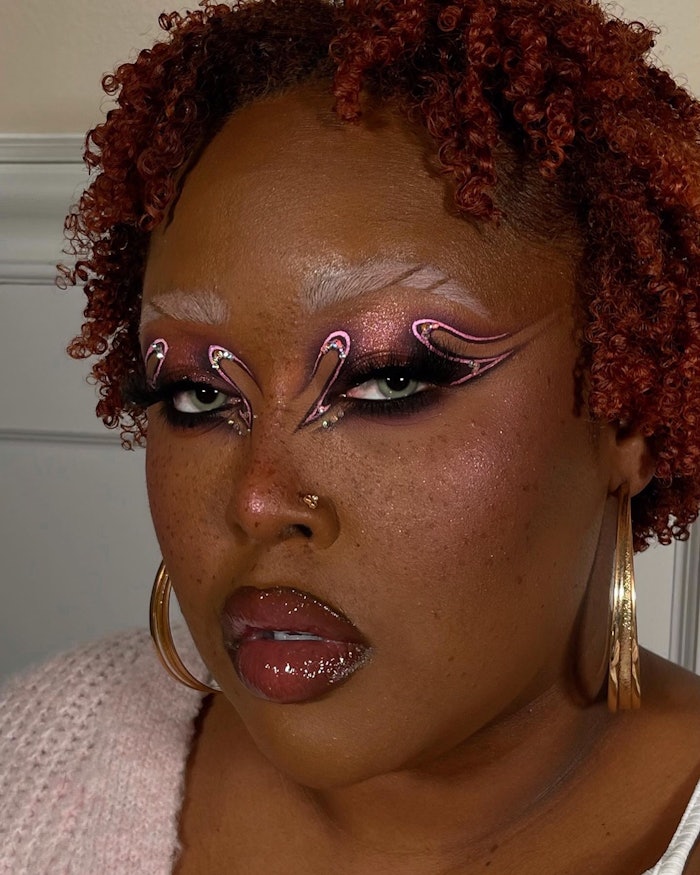 Tik Tok influencer Tajia Reed (391K followers, 7.6 million likes, as of this writing) is known for her honest and transparent voice in the beauty industry, as well as continued conversations about social change, racial injustice and inclusivity. Her Tik Tok content is a mixed bag of makeup tutorials, acting, singing and the occasional take on various hot topics. (She hopes to eventually transition into modeling and acting.)
Reed says she finds it imperative to engage with her Tik Tok fans by being her true and unapologetic self. Her goal is to keep people entertained and informed.  
Here, Reed shares her thoughts on creating viral content by following trends and searching for information on other social media platforms. She also sheds light on what she looks for in a collaboration with brands.  
How would you describe your Tik Tok content?
[TR]: It's a little of everything. I didn't want to pigeonhole myself into one niche or type of content, so I do makeup, acting and singing and the occasional rant about a myriad of things. I used to rant more earlier on in my career, but it's tapered off mostly, but I'm starting to get back into it.  
What is the mission of your Tik Tok content?
[TR]: I want people to be entertained and informed; it's a video by video basis really. You're not going to get much education from a transition style video, but I am a very transparent person and I like to be up front and honest about all things so when I am talking, I'm curating a safe space for people who look like me.
What drew you to Tik Tok to begin with?
[TR]: I honestly thought it was stupid and avoided it like the plague at first. I got on when I realized it was really making traction and [I] wanted to see what the hype was about. Then I fell down a watching hole for two weeks straight and got hooked. Worst decision of my life, honestly.
What do you enjoy posting about the most?
[TR]: I enjoy getting to express my creativity. Feeling like I am the best at what I am currently doing. I put a lot of pride in my content, even if the algorithm refuses to show my content anymore.
How often do you post?
[TR]: A few times a day, a few days a week, depending on my schedule and what I have going on in my personal life or if I have a collaboration with a brand.
Where do you get your information from?
[TR]: Social media.
What's involved in creating viral content?
[TR]: Following trends. It's actually incredibly tedious to have to watch anywhere from 50-200 videos a day. The algorithm will curate videos it thinks you'll like based on what you've already liked in the past. So, I'm trying to view outside of the bubble curated for me, which involves looking outside of Tik Tok. Instagram and Twitter are great places to go to feel out trends and what's going on currently in pop culture; YouTube, as well. It's kind of like doing a research project. Put all the info you gathered together and then just hope it takes hold once you post.
What inspires you?
[TR]: Music, movies, TV and art. I also love watching people enjoy things without caring about being judged; it's about individuality.
How do your fans respond to sponsored posts vs regular posts?
[TR]: I'm fairly certain my fans would burn social media to the ground if I asked them to. I have a very lovely and dedicated support base. When they actually see my work (again, thanks algorithm), they're quick to share my work, regardless of whether it's sponsored or not. My regular posts are pushed more, but the love is the same.
How do you decide which brands to collaborate with?
[TR]: Brands who will let me be who I am and express myself the way I want to. And brands that offer a living wage in terms of rates. The quickest way to not get a response from me is to offer me a low commission rate or product in exchange for a video I'll no doubt have spent the better part of 24 hours shooting, editing, revising and posting.
What are some of your long-term goals as an influencer?
[TR]: I am happy currently. I can always use more collaborations. I'd love to work with Fenty (both the makeup and the lingerie lines), and I'd love to transition into modeling. I did it years ago, but it took a back seat when I needed to get my life together financially. Now that that is taken care of, I want to do things that push me out of my comfort zone. And as always, my end goal is to be an actress. I started this as an actress looking for a way in and found it through makeup. I'd like to steer back toward that path.  
What can your fans look forward to this year?
[TR]: I'm on Cameo now, so that's fun. I'm going to try my hardest to get into YouTube this year. I have horrible organization skills. I should really get a manager or agent or assistant.
What advice do you have for aspiring influencers and entrepreneurs?
[TR]: Remember, you have a life outside of this. It's easy to get swept into the glamor of things. And a lifestyle change is nice, if this road affords you that. But remember that this is the internet. It's not as serious as you think it is and for every 100 people who recognize you, there's 10,000 who don't. Being humble, focusing on the work and the craft of what you're doing is going to take you farther and be more fulfilling. And be nice to people; it costs you nothing.
What makes a marketing partner fun to work with?
[TR]: When they allow me to work without trying to insert themselves into my process or trying to change my message or personal branding. Brands that trust me to market or promote their product in my own unique way are always more fun and are usually the most successful.