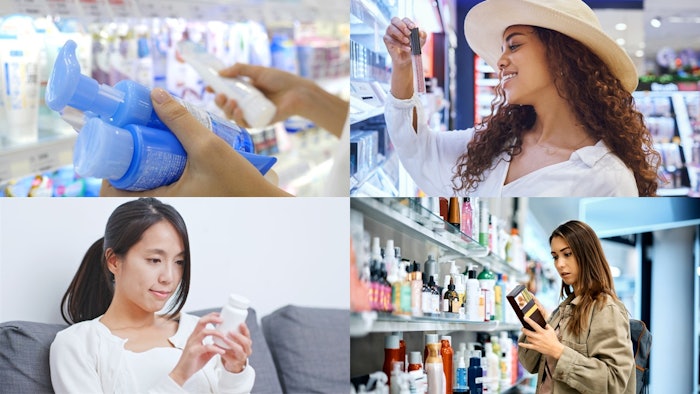 Read part 1 of this 3-part series, Validating Believable Beauty Claims.
In 2021, Federal Trade Commission (FTC) actions led to more than $472 million in refunds to consumers for deceptive marketing by brands. In April 2023, more than 700 beauty and personal care brands received warning letters from the FTC about questionable marketing claims that need immediate attention.
Substantiating product claims is required by law and may help brands avoid an inquiry from the FTC or other regulatory bodies. It also has the added benefit of establishing consumer trust in your brand.
When a brand wants to advertise that its product is 2x better than the leading brand, or that 93% of women who tested the brand said their hair looks shinier, it must have evidence proving those claims are indeed true. The law requires it but, just as importantly, the advertising succeeds if new customers, persuaded by the advertising, become loyal customers because they agree their hair looks shinier too.
The type of substantiation required depends on the type of claim being made. Consumer in-home use testing by an independent third-party research firm, for example, may be used to substantiate subjective claims about a product's attributes. Meanwhile, clinical testing may be needed to support an objective claim about product performance. Put simply, substantiation matters and there should be a good fit between the claim and the support for it.
Serving as the self-regulatory forum for the advertising industry, the National Advertising Division (NAD)** reviews national advertising in all media based on challenges from competitors, complaints from consumers, or on its own monitoring initiative covering a wide variety of industries and issues. NAD's review fulfills its public interest mission of ensuring that advertising claims are truthful and accurate and that competitors operate on a level playing field.
We, the founders of The Benchmarking Company (TBC), a consumer research firm for the beauty and personal care industries, recently interviewed NAD attorney Jennifer Santos (JS)*** to uncover what every brand should know about NAD and its work on behalf of consumers—and why NAD should be of utmost importance to any brand that advertises in any form.
TBC: Please tell us a little about NAD and why every personal care, beauty and wellness brand should know about the program.
JS: Over its 50-year history, NAD case decisions represent the single largest body of cases interpreting advertising law in the United States. NAD can provide personal care, beauty and wellness brands with the clear guidance they need on important and often cutting-edge advertising law issues before regulatory guidance is available.
Following this guidance can keep brands out of the crosshairs of the FTC and build consumer brand trust.
There is a wealth of resources for brands on NAD's website, including advertising law basics videos, summaries of recent case decisions, Ad Watchers podcast episodes, and a cosmetics, anti-aging, and personal care digest which is a compilation of past NAD cases in the beauty and wellness industry.
TBC: NAD is a self-regulatory forum and participation is voluntary. If a brand hears from NAD about an ad that they ran, why should it pay attention or comply with NAD's direction?
JS: While participation in the self-regulatory process is voluntary, if an advertiser refuses to participate or does not comply with NAD's recommendations NAD will refer the matter to the proper regulatory authority, which is usually the FTC, for review and possible regulatory action. NAD also has relationships with platforms, including Meta, so that when an advertiser does not participate or comply with NAD's recommendations, NAD can report the advertising to the platform for them to determine whether it is consistent with their policies requiring truthful advertising.
TBC: What is NAD's definition of an ad, and in which mediums?
JS: NAD reviews all "national advertising," which is defined as any commercial message in any medium (including product labeling) if it has the purpose of inducing a sale or other commercial transaction or persuading an audience of the value or usefulness of a company, product, or service. Also included in this definition is 1) whether the advertising is disseminated nationally or to a substantial portion of the United States, 2) is test market advertising prepared for national campaigns, and 3) if the content is controlled by the advertiser, including claims made on a company's website or any retailer website that is promoting a company's product for sale.
In the personal care, beauty, and wellness industry marketing claims are often found on social media sites. For example, a product demonstration on social media can make implied product performance claims that require substantiation. Advertising claims can also be found on product packaging such as Product X Contains Ingredient Y to Visibly Erase Wrinkles or even a product name can contain a marketing claim such as 10-minute Wrinkle Erase.
TBC: What if the brand employs influencers to help sell products, or if product reviews themselves seem like ads?
JS: If a personal care or beauty brand uses an influencer to tout their products they must disclose if the influencer has a relationship with the brand. Any claims about the product that the influencer makes are considered marketing claims that must be substantiated. It is important to remember that all disclosures must be clear and conspicuous.
Additionally, if a brand touts a product review and the brand itself is in control of that review (i.e., one of the brand's employees wrote the review or the brand paid the reviewer to write the review) then such claims may be considered advertising and all product benefits or performance claims touted in the review must be substantiated. Furthermore, the brand would have an obligation to disclose their connection to the reviewer.
TBC: Why is claims substantiation important for brands?
JS: It is a well-established principle of advertising law that all objective claims be substantiated. An added benefit of truthful advertising, especially for personal care, beauty and wellness brands is to garner consumer trust, particularly from the younger generation of consumers who have a lifetime of buying power and choice ahead of them.
By truthfully advertising to consumers and holding other beauty brands to the same standards, established and newer brands can protect and build brand loyalty with young consumers that can last a lifetime.
On the regulatory side, the FTC requires advertisers to have substantiation for all advertising claims, both express and implied, before making claims for any product. In a typical NAD challenge, the burden is on the advertiser to demonstrate there is adequate substantiation for the advertising claims at issue.
Personal care, beauty, and wellness brands should have a reasonable basis to make typical performance claims; however, health and safety claims are held to a higher standard and require competent and reliable scientific evidence.
Any personal care, beauty, and wellness brands making health claims should be aware of the FTC's revised Health Products Compliance Guidance issued in December 2022, which dives into the details of what can be considered competent and reliable scientific evidence.
TBC: What challenges do you see brands facing when substantiating claims? What are some important points for brands to consider when doing so?
JS: It's difficult to pinpoint the biggest challenges associated with substantiating claims, as that depends on the claim and the context of the advertising, however, I can highlight some important things for brands to consider when substantiating a claim.
Objective Claim: speaks about factual product performance or results a consumer can expect
Example: Reduces the depth of wrinkles by 13% in 7 days
Subjective Claim: speaks to a consumer's perceptions about the attributes of a product
Example: 96% of women surveyed saw a reduction in the appearance of fine lines and wrinkles in 7 days
1. Ensure that your substantiation is a good fit for the claim. It's important that the claim substantiation match the advertising claim. A claim about the tangible, objective results that a consumer can expect a personal care or beauty product to provide (i.e., an objective claim) should be supported by, for example, objective testing on consumers that demonstrates the product works as claimed. A sensory claim about consumer perceptions of a product (i.e., how a consumer feels about a product, or how the product impacted the appearance of the skin) should be supported by sensory testing obtained via well-conducted, independent consumer surveys or consumer home use tests.
For example, a consumer home use test collecting user's opinions after a week of applying an anti-aging moisturizer is not a good fit for an objective advertising claim that the product "reduces fine lines and increases skin hydration after only a week." Rather, more persuasive evidence to support this objective claim would be, for example, a well-conducted, blinded, clinical study with an appropriate washout period and study population that measures results with clinical instrumentation and an expert assessment of product users. A well-conducted consumer home use test may be a better fit for a subjective claim such as "xx% of panelists saw a visible reduction in the appearance of their fine lines after xx days."
2. Ensure your substantiation is consumer relevant. It's important that the methodology of a clinical study or a consumer use test is consumer relevant. A clinical or consumer use test that directs users to apply a showering product four times a day is inconsistent with typical consumer showering habits since most consumers do not shower four times a day. The most persuasive studies use consumer relevant panels representative of actual product users.
3. Ensure your consumer panel is national in scope, large enough, and includes the relevant target population. While a small well-conducted, well-controlled clinical study measuring results with instrumentation or expert graders can be reliable, it is important for consumer use tests asking for user's subjective opinions on product attributes to sample enough participants nationally to be representative of the target audience to whom the advertising is directed. Simply adding several subjective consumer questions onto a small clinical study conducted in one location may not be indicative of broader nationwide consumer opinions or nationwide consumer use of the tested product.
4. B&A's have special considerations. Brands should also remember that "before and after" images often used in beauty advertising are considered performance claims that must be substantiated, accurate, and representative of the level of product efficacy that a reasonable consumer can expect to achieve. A clear and conspicuous disclosure about enhancements, lighting, etc. may be necessary if altering "before and after" images. It's important to remember that a disclaimer cannot cure misleading "before and after" images.
TBC: We're seeing more and more brands use comparative claims in the market. What is your advice to brands looking to make competitive claims? What is important for brands to know?
JS: Comparative claims are powerful and often impact consumers' purchasing decisions, so it is incumbent upon the advertiser to ensure they are truthful and non-misleading.
Superiority claims, a type of comparative claim, assert that one brand is better than another named brand (i.e., Foundation A lasts 2x longer than Foundation B) or that one brand is better than all the others (i.e., Get the longest wearing foundation with Product A).
Parity claims assert that one brand is as good as another (i.e., No one provides better coverage than Foundation A).
As a general rule, comparative advertising claims should be narrowly drawn and carefully crafted to match the advertiser's supporting evidence.
The most persuasive evidence to support comparative performance claims is head-to-head reliable, double-blind testing on the products as sold to the consumer. Head-to-head testing ensures the products are subject to the same methodology under the same conditions, reducing the potential for inconsistent results. Personal care, beauty, and wellness brands should keep in mind that any clinical results should be statistically significant as well as consumer meaningful.
In addition, advertising claims disparaging a competitor's product are permissible as long as they are truthful, accurate, and narrowly drawn. When comparing one product to a competitor's, it's important for brands to ensure that the differences between the products are accurately described and do not overstate the differences between the products.
TBC: How important is it for a brand to substantiate its claims using a third-party, independent research firm?
JS: Brands should possess the most reliable substantiating evidence available for their advertising claims. Testing conducted by an independent third-party is the gold standard and helps to avoid bias in the testing process.
Generally, a third-party independent research firm is a party separate from the brand creating or marketing the product. Brands should be careful not to use employees, friends or family members, or company-built panels to test their products as these people could possibly have something to gain from the product passing or failing a certain test and therefore cannot provide an unbiased independent analysis. 
Additionally, depending on the context of the relationship, it would likely be a conflict of interest if the same party who provided cradle-to-grave product development advice also tested the product for claim substantiation purposes. The product development team would clearly have a stake in the testing of the product and may have trouble being unbiased.
The fact that a panel or testing firm is not independent would be one of the factors NAD considers when evaluating the reliability of the brand's substantiation. NAD would also generally look into whether the third-party independent research firm has the necessary expertise and experience to evaluate the particular product.
*The Benchmarking Company provides marketing and strategy professionals in the beauty and personal care industries with need-to-know information about its customers and prospects through custom consumer research studies, online and in-person focus groups, and consumer in-home use testing (IHUTs) for claims substantiation and risk mitigation.
**The National Advertising Division (NAD), a division of BBB National Programs, was established in 1971 to build consumer trust in advertising and support fair competition in the marketplace. NAD serves as the U.S. system of independent self-regulation for the advertising industry. NAD reviews national advertising in all media based on challenges from competitors, complaints from consumers, or on its own monitoring initiative covering a wide variety of industries and issues. NAD decisions set consistent standards for advertising truth and accuracy, delivering meaningful protection to consumers, and leveling the playing field for businesses.
Find out more: BBBPrograms.org/NAD
Jennifer Santos, attorney, National Advertising Division, BBB National Programs; jsantos@bbbnp.org
***Jennifer Santos is a seasoned advertising law attorney and broadcast standards executive with significant experience in commercial network clearance, network programming standards and FCC, FTC, and FDA regulatory law and guidelines. In her current role, at BBB National Programs' National Advertising Division she resolves disputes over the truthfulness and accuracy of national advertising campaigns, writing and publishing detailed decisions that provide guidance and critical insights to the advertising industry.