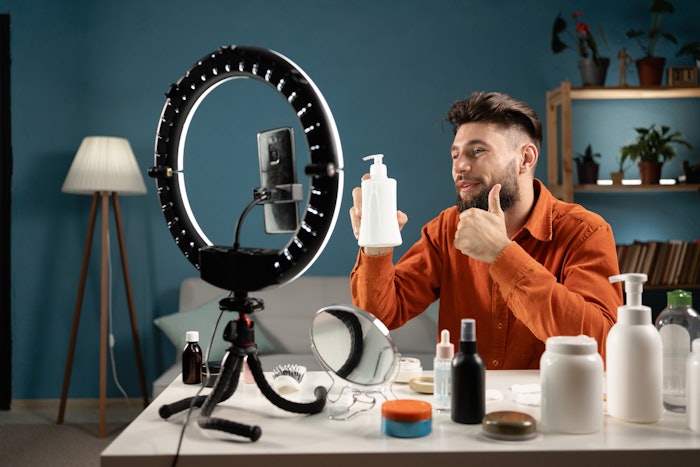 mtrlin at Adobe Stock
Today's hottest trend of livestream shopping is rooted in the legacy of television infomercials and home shopping channels. McKinsey aptly draws a parallel between livestreaming and traditional QVC-style selling; however, unlike its predecessor, live commerce allows brands to showcase and sell their products to an online audience in real-time. Seven years after livestream shopping first emerged, live commerce and its growth potential is still untapped, yet is projected to be a $31 billion industry by the end of 2023, 3x the size of the market in 2021.
While the world of social commerce is exploding with possibilities, its true potential lies in customized strategies that cater to the diverse traits and unique requirements of consumers. These include the particular Gen Z demographic, which likes immersive experiences, but also older millennials and boomers who are more accustomed to the social experience of shopping.
That social experience was momentarily halted by pandemic lockdowns and served to highlight the importance of a more interactive, engaging experience—even among tech-savvy Gen X and millennials.
The Evolution of Online Commerce
The driving force behind the popularity of livestream commerce lies in the evolution of online experiences. Starting with text, which eventually became monotonous, online spaces progressed to include imagery—and a significant leap in audience engagement. Later, the introduction of video proved even more compelling than static imagery. Now, livestreaming, with its real-time interactive element, marks a new phase of this evolution, allowing viewers not just to watch but also to make purchases directly from the feed.
While the pandemic undoubtedly catalyzed changes in consumer behavior, one can attribute the rise of livestream commerce more to shifting technology and generational preferences. The pandemic, though a stimulus, merely accelerated an existing trend. The hybrid shopping model, a blend of in-store and online experiences, is here, with 85% of shopping now taking place in physical stores and 15% online, including a portion attributed to livestream commerce.
4 Key Benefits of Livestream Shopping
 1. Provides both entertainment, and education: In terms of demographic preferences, according to Coresight Research, 42% of U,S, shoppers and 38% of Europeans find livestreamed shopping entertaining. Both territories also find it a good space to score deals (35% for the United States, 30% Europe). While data suggests 45% of U.S. livestream users in 2023 are shopping to find a good deal, a plethora still are on it to watch something new, just pass time or discover new products. Entertainment, especially when tied together with education or tutorials, is clearly the key here. This explains why one of the leading categories in live commerce is beauty, where customers are eager to find their perfect beauty hacks, or simply a viable product in a sea of options.
2. Increased conversions and lower return rates: Livestreaming enhances conversions, with the potential to boost sales with as much as a 70% higher average order value (AOV)  compared to traditional outreach methods—with up to a 42% sales conversion rate. Plus, to combat the fact that number one reason for returns is inadequate shades in beauty and inadequate sizing in apparel, a live host helps with answering questions in real time. As such, livestream shopping has proven to reduce return rates by up to 40%, a game changer for ecommerce.
3. Reaching larger audiences: Livestreaming efficiently reaches diverse age groups, particularly among younger consumers in the Gen Z and Gen Alpha screenagers growing into adulthood, creating opportunities for broader audience engagement. This also aligns with these consumers' content preferences. While Gen Z is a dominant demographic in terms of activity on social platforms, it is actually millennials and Gen X that comprise the largest shopper demographic contributing to the growth of live commerce. These older generations possess a higher disposable income than their younger counterparts; in addition, they are likely not watching live streams with some level of intent, rather than for passive entertainment. Another hypothesis is that the millennial parents of Gen Z are the ones making purchase decisions. Still, the consideration part of the funnel, vetting and abandoning products, is still in the hands of Gen Z. 
4. Potential cost savings: The low-cost nature of live content production is a major attraction, especially when compared to traditional advertising, celebrity endorsements, or the rising costs of influencer marketing with unclear conversion. In fact, 73% of business-to-business (B2B) companies viewing livestreaming as a profitable marketing strategy.
Choosing the Right Livestreaming Host
An integral component of livestream commerce is the role of experts and influencers—individuals who guide discussions, wield significant influence and encourage viewers to make purchases. Unlike the solitary nature of early online shopping experiences, livestream commerce is inherently communal. Viewers engage with each other, fostering a sense of connection and shared interests.
This communal aspect exerts a form of social pressure during livestream events, influencing purchasing decisions. The live hosts thus have to be aptly trained, and truly be authentic to their craft, as exemplified by expert content creator Emily Carriveau (@smalltownme) in an informational webinar, with regards to why she is so successful as a livestream host for Walmart.
The influence of livestream commerce extends beyond individual transactions, shaping the business models of social media platforms that facilitate these events. Even though the likes of Amazon live have taken off to keep users on platforms, brands like Drmtlgy will host lives on their ecommerce and social platforms. In addition, retailers like Ulta Beauty and Walmart use integrated platforms like buywith to host weekly live shopping events with a plethora of brands.
These streams occasionally debut celebrity stylists and makeup artists, if not expert influencers from the content creator marketplace. Examples include hosting celebrity makeup artist Stephen Moleski to recreate the Barbiecore look in the exclusive Jouer Cosmetics and Ulta Beauty partnership, or having the founder of Live Tinted, Deepica Mutyala, share her story on a livestream. Both diverse examples showcase the need for a strong host to take users through a successful, entertaining and educational livestream, which inevitably drives conversion.
4 Livestreaming Best Practices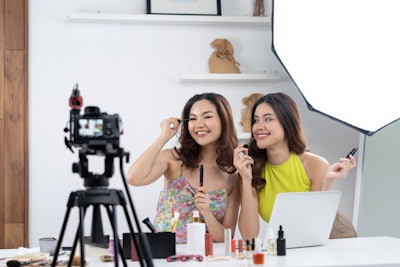 1. Choose the right platform:  Select a livestreaming platform aligned with your marketing goals, technical capabilities and target audience. While social media platforms compete with the introduction of Instagram Live and Instagram Shops, soon (in this author's opinion) to be ousted by TikTok Shop and TikTok Live, the bulk of retailers have found it challenging to manage their inventory on a social platform. One reason for the growth of live commerce is the opportunity to go off-platform in Europe and the United States, where Meta has discontinued its live-shopping features. Meanwhile, other social media and live commerce platforms may not have sufficient functionality to support successful livestreaming. This means that brands and retailers can make their website the destination for live shopping. This is where buywith comes in, with the ability to host 1-to-1 and 1-to-many live stream sessions with a brand and a creator, directly on an e-commerce platform. This enables much higher engagement on site versus online shopping.
2. Promote and build excitement: Leverage pre-stream promotions on the chosen platform to build excitement and anticipation for the live event. Use countdown timers and share event details, asking the trifecta of the brand, retailer and influencer/host to share the upcoming livestream details. Leverage the social nature of livestreaming by encouraging viewers to share event details with their networks. Brands and retailers often promote their livestreams heavily, with Ulta Beauty and Walmart having dedicated website sections to "A New Way to Shop."
3. Include a clear call to action: Align your call to action with the specific goal of your livestream, whether it's promoting a product, building brand image or attracting new consumers. While in most cases there will be a product lineup of beauty products that are to be sold, on sale or that one wants to bring awareness or attention to, it is helpful to highlight this in all promotional and post coverage material.
4. Record, save and repurpose content: Record livestreams for future use and post-event visibility across social media platforms. Reportedly, 87% of the revenue from livestreams in China comes from replays of livestreams. Repurpose 20-40-minute livestream content into bite-sized pieces for social media marketing or video content on product pages. Recycling and repurposing content contributes to shoppers making more informed decisions. Optimize recorded content for SEO, ensuring long-term value and accessibility.
Getting Stated in Livestreaming
Behind the scenes: Increase brand awareness by providing viewers a behind-the-scenes look at daily operations, workplace environments and staff interactions. Brands like Smashbox Cosmetics showcase this with events nationwide and behind-the-scenes from their work with fashion weeks worldwide. Similarly, BeautyBio does this well with ample footage of what goes on with founder Jamie Banion's crusade across the nation and sneak peeks of how the brand's products are made and used.
Product launches and announcements: Host live virtual product launches to introduce new products, showcase features, and generate excitement and orders. Building anticipation and unveiling a new line or product is best suited for livestreams rather than a traditional PR announcement. For example, La Roche Posay announced itself as the preferred sunscreen sponsor for the U.S. Open in a livestream with Ulta Beauty.
Sales and promotions: Sales promotions are typically confined to traditional channels like email or SMS marketing. While these methods can create urgency and success depending on their execution, they may lack real-time engagement. With occasions like the upcoming holiday season, brands can leverage livestream shopping to generate excitement around promotions and witness sales in real time, especially around crowded, buzzy holidays like Black Friday.
Tutorials: Conduct live tutorials and demonstrations to highlight products, offer solutions and guide customers on maximizing product benefits. This is especially common in beauty and makeup routines, and in the use of skin care tools and devices. Which is why how-tos and immediate results are easily showcased in livestreams of brands like Drmtlgy (viral eye masks) and BeautyBio (at-home hydrafacials).
Showcasing expertise: While some brands may hesitate to venture into livestream shopping, it's akin to any other marketing strategy—leveraging your brand's strengths. Utilize internal experts to host livestream events, a tactic used by beauty brands collaborating with makeup artists. This could also include live interviews, either engaging your audience with relevant or expanding into panel discussions for knowledge sharing. Dermatologists and aestheticians like London- and NYC-based Pietro Simone do this well, for instance.
Be part of the influencer conversation: It's important to interact with influencers and content creators, instead of letting them engage with audiences and leaving the brands out of the equation! This is especially important given the trust customers place in influencers' viewpoints. Leveraging livestreams empowers brands and retailers to integrate into ongoing conversations, facilitating education, sales and the cultivation of customer loyalty. By actively engaging in the conversation between customers and influencers, brands can promptly influence conversion rates.
A New Tool in the Marketing Arsenal
Incorporating livestreaming into your marketing strategy requires careful consideration of platforms, planning and execution. Businesses that navigate this landscape with strategic intent and creativity can tap into the immense potential of livestreaming to connect with audiences and achieve marketing objectives.
For brands venturing into livestream commerce, note that it is not a magic marketing bullet but a valuable addition to the marketing arsenal. Selecting the right platform and influencer becomes crucial in tailoring the experience to the desired market. Plus, success in livestream commerce is measured beyond immediate sales. Objectives might include reaching new market segments, introducing products or creating brand buzz. In essence, livestream commerce demands strategic planning, careful selection of influencers and a nuanced understanding of the brand's objectives to deliver a compelling and successful experience.
As livestream commerce continues to grow and shape the retail landscape, brands must embrace its potential as an integral part of their dynamically changing, multifaceted marketing strategies.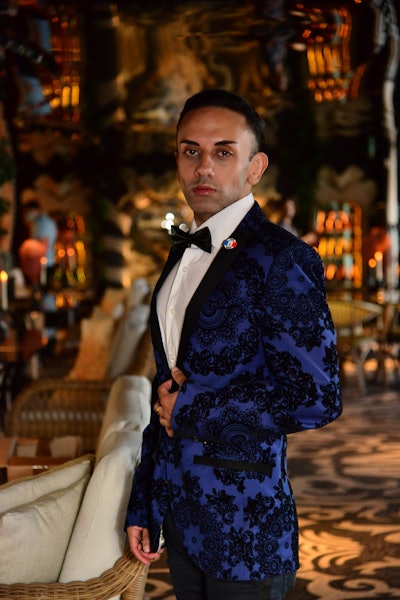 Sourabh Sharma is the head of social media at buywith, a live shopping solution that requires zero integration to work with, and offers a built in creator marketplace to help make live  events a success. Sharma is a seasoned marketer and has worked across startups and multinationals like L'Oreal and Unilever. He has been a judge and keynote speaker at industry conferences worldwide, and his works as a marketer, thought leader and influencer have earned him spots in Glamour Magazine, GQ, Allure, Esquire and more. He is an alum of the University of Pennsylvania, The Wharton School and Rotterdam School of Management.