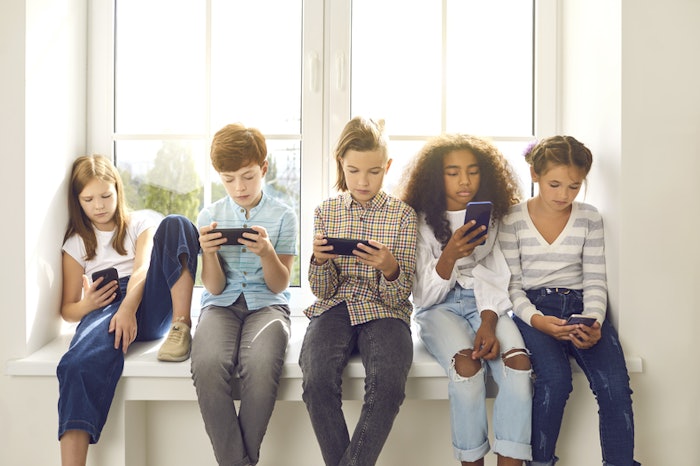 Ever wondered what comes after Gen Z? The next generation of consumers is called Alpha, the Greek word for the demographic cohort born after 2010—the year that the first-generation iPad debuted and when Instagram launched. Time flies, doesn't it?
Although Generation Alpha currently consists of kids and pre-teens, they will enter their 20s in 2030. That means beauty brands need to prepare now to understand the interests and habits of this influential generation in order to market to them successfully in the future.
The Birth of the Screenager
The children of Gen Alpha are born primarily to millennial parents, who marketers were going nuts trying to understand in the 2000s and 2010s. As the first generation fully immersed in the digital era, Gen Alpha is growing up in the screen age. 
Many of these screenagers have already become social media influencers. Take Ryan Kaji of Ryan's World. The 10-year-old has amassed about 33 million subscribers on his YouTube channel, which features him unboxing toys. Late Gen Z/early Gen Alpha Desmond Napoles is a 15-year-old American teen drag performance artist, author and LGBTQIA advocate with more than 8 million subscribers on YouTube and 159,000 followers on Instagram.
Similar to other demographic groups spliced by age, Gen Alpha values authenticity, personalization, and sustainability and ethical processing. 
This generation is also acutely aware of the importance of equality, diversity, fluidity and inclusion, essentially expecting these tenets to be ingrained into the world around them, compared to Gen Z and millennials who debated it.
Combined with Gen Z, the U.S. Census Bureau reports that by 2025, 22% of the population will be 18 years old or less, and they already purchase beauty products: 69% use color cosmetics and 68% have a skin care regimen. A plausible market? Absolutely.
Marketing to Children
While some members of Gen Alpha are still children with little disposable income, often relying on their more affluent millennial parents, they are still spending large amounts of time on social media and their mobile devices. 
According to research from global cloud communications platform Infobip, which polled British children aged 6-11 years old, about 25% of respondents spoke more to their Alexa devices than to their grandparents, while 66% were using tablets by their fifth birthdays, ultimately transitioning to mobile devices.
Spending on a Chanel purse or Cartier watch may be out of Gen Alpha's reach for now, but marketers can begin building brand awareness with this demographic by smartly marketing to their parents. 
Beauty brands can learn from their fashion counterparts, which have infiltrated the world of children's marketing to familiarize them with luxury brands. One example from apparel is the KFC x Karl Lagerfeld collaboration, which involved placing KFC's logo on Karl Lagerfeld purses. While cynics said this collaboration diluted the luxury brand's image, it was actually a smart move as it reached the eyeballs of a new generation.
Virtual Experiences Versus Real Experiences
As children of millennials, Gen Alpha is composed of digital natives, unaware of a life without swiping and interfaces. They view virtual and real experiences as interchangeable, which is a stark difference from Gen Z. Because they grew up with real experiences, Gen Z expects virtual experiences to be just as engaging as real ones. 
For Gen Alpha, real experiences need to match up to virtual ones—putting pressure on marketers to ensure that virtual experiences are as cutting-edge yet genuine as possible. This gives way to completely immersive worlds, whether they are in beauty, fragrance or tech, or in the plethora of functional robots and assistants.
An example of this from the luxury space, usually slower to catch up to their less regimented counterparts, is Chanel's lip scanner. It enables one to virtually try on lipstick shades and color-match to objects or pictures the user already loves. 
By giving users the option to scan a color or upload a picture from an image library, Chanel blurs the lines between virtual and reality while providing customization. MAC, Estée Lauder, Revlon and L'Oreal Paris allow customers to virtually try on their products with more customizable features that capture the mindset of Gen Alphas.
From a platform perspective, Pinterest has seen a surge of users explore makeup trends post-pandemic. Aside from the millennial trend of scrolling for info, the app allows users to virtually try on similar lipstick shades as they scroll through pictures—a clear shift that caters to the younger demographic.
Transactional Versus Experiential
As pandemic restrictions are lifted, beauty brands continue to debate the merits of online versus offline shopping.
In pre-pandemic times, retail stores were experiential, and online experiences were transactional. 
However, as consumers took advantage of delivery, buying online and picking up their purchases in store, curbside pickup, and other variations during the pandemic, online experiences became more sophisticated and experiential, while retail storefronts became transactional.
In the post-pandemic era, marketers are focused on harmonizing online and offline retail experiences. Both provide engaging and valuable opportunities for consumers, enabling engagement and interaction with the help of live streaming. 
Gen Z would prefer the offline experience, but only if the online experience is as good. 
However, for Gen Alpha, the mindset goes one step further. The in-store retail experience needs to be better than shopping on a brand's website in order to lure Gen Alpha out of the online experience.
Communities: The New Social Party
Gen Alpha is infamous for being less social than other generations. However, the truth is that their personal connections are maintained online versus interpersonally. Time or geography do not affect the strength of these relationships. Some fondly call these "'invisible communities."
That means brands must build online communities on apps like TikTok and Instagram to market effectively to their consumers. It will allow them to mine valuable marketing information from the conversations in the comment threads alone. 
In addition, brand communities are critical to promote word-of-mouth information, DIYs, how-tos and recommendations from peers, which reduce marketing costs and lead to more invested customers. 
Online brand communities resonate with Gen Alpha because this group of consumers inherently mistrusts big-name social media influencers, recognizing that these internet celebrities are paid big bucks to promote products. User-generated content, on the other hand, fares better than influencer content because Gen Alpha perceives the information as authentic, according to a report in Forbes.
A stellar example of this is askINKEY, the beauty advice service from The Inkey List. The service provides customers with help and advice from the brand's experts, who have deep knowledge about the products as well as skin care and hair care. The Inkey List experts are available via a live-chat tool on the brand's website, email, DMs, Twitter and Facebook Messenger, making it a key community in beauty. 
Ask Mira, a free-to-download app, is another example of building a credible community. The  self-described "beauty encyclopedia" is an AI-based platform that provides a plethora of information on beauty products, including customer reviews, ingredients and comparisons with similar beauty products. 
The forum is also open for dermatologists like Sam Bunting, M.D., who created the Dr Sam's skin care brand, providing an online discussion forum that makes dermatology accessible.
Inclusivity of Fluidity and Diversity
Millennials sparked the social media and Instagram boom with debates on mental health issues, phone addiction and self-esteem doubts. 
Gen Alpha, while heavily involved in video and scroll culture, prefers brands that go out of their way to overcome these societal ills and cater to being beautiful inside out, sans comparisons. 
Part of this diversity is ingrained in the way Gen Alpha grew up. As the last generation in America that's predominantly white, with 48% being Hispanic, Black and Asian, Gen Alpha was shaped by the first African-American president in office and the legalization of gay marriage. These experiences, naturally, affect how they consume marketing and purchase products.
An inclusive visual culture is important to Gen Alpha. Many brands have embraced multicultural and gender-fluid people as faces of beauty, including James Charles for CoverGirl and Manny Gutierrez (also known as Manny MUA on social media) of Maybelline, and have launched progressive collaborations like the Crayola x ASOS gender-fluid makeup line.
With the onset of augmented reality and virtual reality capabilities, global brands like Dolce & Gabbana, Givenchy Parfums and Clinique have even launched their own NFTs. 
As brands explore Gen Alpha's appetite for technology and how they interact with beauty, these beauty brands are driving the way for digital innovation in the industry. 
However, attention and focus disorders within this demographic are on the rise due to the generation's short attention span and appetite for bite-sized content, meaning brands will have a tough time measuring success. For what is popular today may be dethroned from its pedestal the next day. 
Brands need to constantly keep up with the gush of content. After all, what's popular does not mean it's successful, and even worse, does not mean it's good.
Sourabh Sharma is the head of digital marketing and CEO at FIG or out, a digital marketing and public relations company. He is a seasoned marketer with a background in brand management, digital marketing, social media, influencer marketing and management consulting, having worked for multinationals, startups and small businesses. He has been a keynote speaker and judge for conferences and brands. Sharma has undergraduate engineering and business degrees from the University of Pennsylvania as well as an MBA from the University of Pennsylvania's Wharton School and the Rotterdam School of Management.