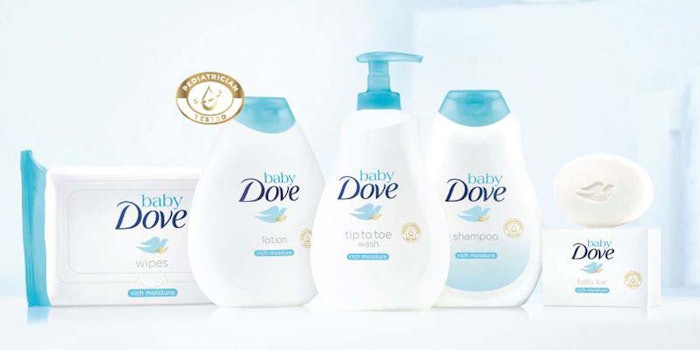 Since its creation 60 years ago, Dove has been providing its customers with beauty bars, body washes, face care, antiperspirant/deodorants, hair care and styling aids. Now it has finally launched a product range geared especially for those little bundles of joy. 
Baby Dove, the company's first new U.S. category since Dove Men+Care in 2010, is kicking off with a campaign that challenges the "perfect mom" stigma that many feel is impossible to live up to. While Dove is known for supporting and encouraging women and broadening the definition of beauty, it is taking this opportunity to feature "real moms and dads as a way to encourage all parents to trust their way." 
Nick Soukas, vice president of skin cleaning for Dove, was quoted saying, "Baby Dove wants to help build parents' confidence and encourage them to trust their way when it comes to doing what they think is best for their baby and themselves. This new research, combined with our deep understanding of the role dads' play as caregiver through our Dove Men+Care work, has led to the Baby Dove belief that there's no such thing as perfect parents, only real ones, and we are proud to support parents in the care of themselves and their babies. Since the launch of the Dove brand in 1957, we have been wholly committed to providing products to women and men that deliver superior care and mildness. It is our honor to care for babies with Baby Dove products that offer a demonstrably superior way to care for baby's skin."