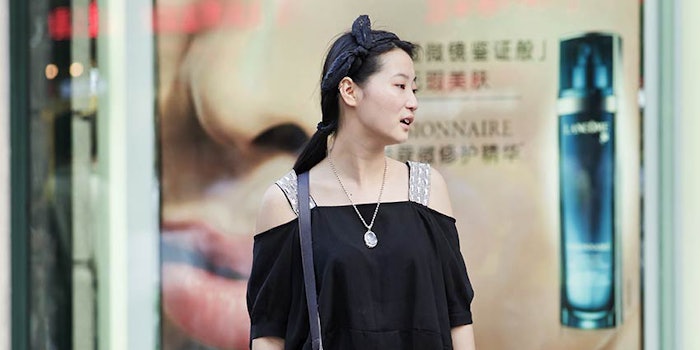 A new report notes that China's cosmetics sales have improved vastly in March, compared to February's 60-80% year-over-year sales decline, per a new report in the South China Morning Post. The rebound is, of course, entirely due to the mitigation of COVID-19 infections in the country. Key takeaways from the recovery:
Need a China strategy? Read our cross-border commerce feature.

"Cosmetics sales in China declined 14.1% to 38.7 billion yuan in the first two months of the year compared to the 20.5% drop in overall retail sales, according to data from the National Bureau of Statistics."
Sales and marketing have shifted online.
Lin Qingxuan's sales increased 120% year-over-year in February, following a jaw-dropping 90% year-over-year decline over the Lunar New Year Holiday. The company sold 400,000 bottles of its camellia oil within two hours on Valentine's Day. Online sales quintupled during International Women's Day shopping; Tmall's cosmetics sales during the same period jumped almost 90%, year-over-year.
Face pack sales and makeup removers more than quintupled in March on the retail platform Pinduoduo.
Buying is more restrained, nonetheless, with mid-priced products selling better year-over-year.
Online searches for cosmetics and personal care in China rebounded to pre-outbreak levels by February 10, from a low January 30.