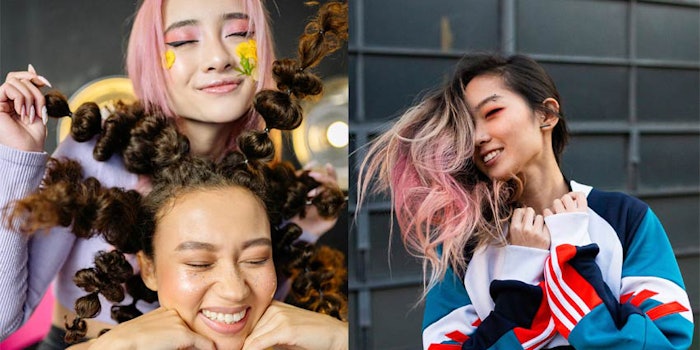 The NPD Group has issued its Q3 2021 U.S. prestige beauty market results, which showed the sector's revenue reached $4.9 billion, a 25% increase versus Q3 2020, per point-of-sale data from The NPD Group. The firm also issued a preview of how holiday 2021 is shaping up.
Notable highlights: makeup growth continues, body skin care and fragrance outperformed 2019 figures, and styling products continue to rise in prominence in the hair sector.
Makeup
Makeup revenue for Q3 totaled $1.7 billion, a 24% increase vs 2020, driven by face products such as blush, bronzer, highlighters and tinted moisturizer, which all grew in the double digits. Lipstick and lip gloss also grew at a similar scale.
Also on the rise? Makeup setting sprays and powders, as well as makeup removers.
All of this points to a consumer base that is increasingly back in the world following lockdowns and intensive social distancing. 
Report: Color's Comeback: by the Numbers
Skin Care
Prestige skin care revenue totaled $1.4 billion in Q3 2021, a 14% gain year-over-year. Body products outgrew facial products during the period, including cleansers, creams, exfoliators and oils. In fact, body skin care outperformed its 2019 totals.
In facial skin care, top performers included lip and eye treatments, as well as serums.
Fragrance
Fragrance revenue for Q3 totaled $1.1 billion, a 36% rise above 2020 and 38% above 2019 totals. versus pre-pandemic 2019.
Juice sales jumped almost 50% compared to Q3 2020, led by eau de parfums and perfumes.
Hair/Grooming
Q3 2021 prestige hair care sales totaled $619.4 million, an impressive 36% year-over-year gain, driven by styling sprays, gels and similar types of products. Like in makeup, these results reflect greater away-from-home activity.
NPD previously reported that sales of hair styling products grew from April to September in the range of 13% to 58% compared to 2020, led by specialty stylers (ex: wave stylers), which increased in sales revenue by 58%.
Curling iron sales jumped 43% in the same period, while hair setters grew by 35%. Flat iron and straightener sales both increased by 25%.
There is room for styling to grow further, per NPD, which reports that 1/3 of U.S. women style their hair once a week or less.
In the same April-September period, body groomer sales jumped 43% versus 2020, while nose/ear trimmers grew dollar sales by 26%, and pen trimmers increased sales by 13%.
In Q3, hair masks represented the fastest-growing segment of the hair market in Q3, reflecting the rising focus on hair health.
This sector, too, has room to expand. NPD previously reported that 34% of U.S. women use hair treatments, drivingt up revenues for hair masks, particularly scalp treatments, which doubled revenues between 2019 and 2021.
"Today, amid many uncertainties, we are seeing glimmers of normal life return which is helping the beauty industry to experience renewed growth across all its categories," said Larissa Jensen, beauty industry advisor, The NPD Group. "Fragrance has emerged as the brightest star and is experiencing unprecedented growth against both 2020 and 2019. With the holiday season upon us, we can expect this momentum to continue through the fourth quarter."
Holiday 2021
Good news for the industry: per NPD, beauty ranks among the top 10 physical gifts U.S. consumers plan to purchase this holiday season. And 29% plan to spend more on holiday shopping than they did last year.
And, perhaps reflecting supply chain issues, more than half of consumers plan to start their holiday shopping before Thanksgiving Day.
As shown in the Q3 numbers, products that reflect consumers' desire to be out and about should fare well, according to NPD.
Further education: 6 Pandemic-era Holiday Beauty Marketing Realities
Holiday 2021 data: Klarna on 2021 Holiday Beauty Shopping Trends