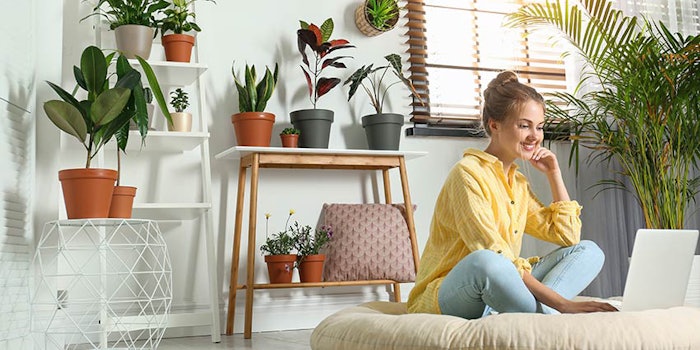 2020 changed the way we beauty. Driven by stay-at-home orders, fears of infection and the desire for self-care rituals, consumers worldwide adopted new habits and preferences. While many of these trends are associated with this year of upheaval, many will persist and accelerate well into 2021 and beyond.
Here, we've assembled a list of the 10 trends that struck the editors of Global Cosmetic Industry most in 2020:
1. At-home Beauty
Consumers flocked to DIY solutions, including hair and nail care.
2. Masked Beauty
Consumers found that frequent mask wearing led to a plague of maskne. Concealed mouths and stay-at-home orders also boosted the prominence of skin care over makeup, though eye and brow cosmetics fared relatively well.
3. Self-care x Wellness
From mental well-being to immunity-boosting solutions, consumers sought solutions to a radically changed and stressful world.
4. E-commerce Revolution
The closure of stores, paired with social commerce, virtual try-ons, curbside/BOPIS and other conveniences accelerated the beauty industry's digital commerce transformation.
5. Accountable Inclusivity
Vague promises of diversity gave way to raw and specific conversations about diversity and representation in beauty. Powered by the Black Lives Matter uprising, key figures such as Uoma Beauty founder Sharon Chuter demanded meaningful representation and concrete commitments from brands and retailers.
6. Gaming Marketing
Brands tapped into gaming culture in unprecedented ways, reaching consumers of all gender identities through platforms such as Twitch and Animal Crossing.
7. Sustainability Surge
Despite pandemic-related supply chain challenges, sustainability moved forward unabated. To illustrate, many beauty industry players expanded their prominence on the CDP list; major brands adopted sustainable packaging technologies; more brands adopted offsets; and many firms announced ethical ingredient commitments.
8. China Surges
China's 2020 economic growth is expected to rise by 2.1% in 2020; while that number sounds low, it vastly eclipses many other top beauty economies. For instance, the United States is forecast to face a GDP drop of 3.6%. The difference? The two countries' differing approaches to the pandemic.
China took advantage of floundering Western societies by expanding its shopping festivals to capture global consumers, as seen with the billions of dollars raked in by Alibaba's 11.11.
Looking ahead, the country's growth forecast continues to far outstrip those of other major beauty markets.
9. Tik Tok Ascendant
The foundation of Tik Tok's ascendance began in 2019, but increased time at home in front of phone screens in 2020 took the platform to the next level. e.l.f. launched a reality show on Tiki Tok, the platform birthed its first influencer brands and generated unexpected resurgences for high-quality legacy brands.
10. Desire for Connection
Finally, and critically, all of us experienced the pressures of isolation. Unable to travel widely or meet closely with friends, family or colleagues, everyone sought meaningful connections to bridge the gap until life can resume to whatever normal might look like.
This will be one of the largest consumer needs in 2021, creating opportunities for digital and physical experiences, as well as greater emotional connections with shoppers.
One hopes we can all see each other again, soon.