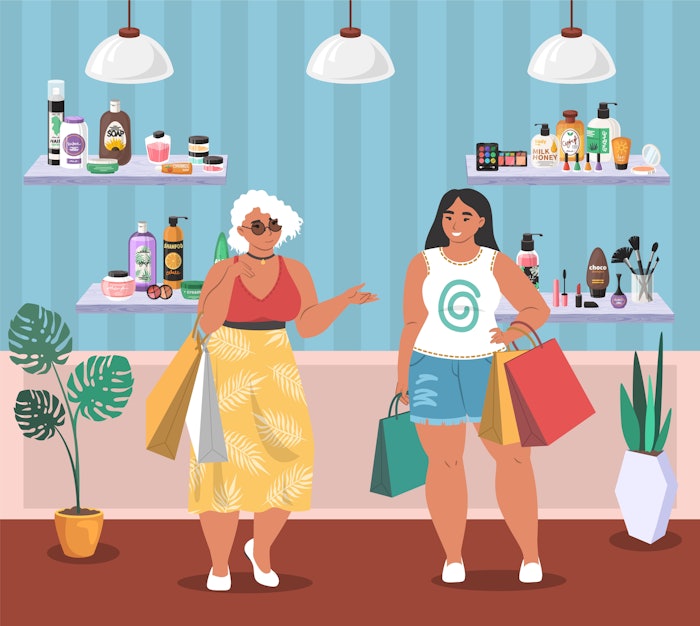 If Credo's acquisition of Follain marked a new stage in the evolution of clean beauty retail, a new 1010Data report points to challenges in the sector, broadly. According to the firm, online clean beauty sales declined 6.3% in the 12 months ending in July 2022, while total online beauty sales were down 6.5% year-over-year. Despite this, growth was witnessed among key clean categories and select  brands. 
(1010Data defines clean beauty brands as those that fall under the "clean" definitions of Sephora, Ulta and Target.)
Dynamics of Clean Beauty's Declines
"We feel the category segment [we call] clean beauty, as well as beauty overall, are starting to feel the pressures of inflation as consumers are making trade-offs on what to buy," says Jonah Ellin, chief product officer at 1010data. "As the mission of clean beauty is strong and has a loyal following, the decline has been less than beauty overall."
Ellin adds, "E-commerce sales have been strong, where it is easier to identify and find the products consumers want, which may be less readily available and in-stock at the local store."
He continues, "If customers have stopped purchasing [in certain categories] temporarily due to inflation and the need to save, there is less concern for these brands. Where the product purchase frequency is high and sales are diminishing, customers may have found more economical alternatives that meet their needs. Winning them back will be challenging [and] high-cost for the more premium and niche brands."
Category Performance for Clean Beauty
Clean facial care contributed to 53% of the online declines for the period, with online sales dropping 14.8% year-over-year.
Ellin explains, "Facial care has a lot of options for 'clean-enough' products at a wide array of price points and are often readily available at convenient lower-cost retailers who may be enjoying brand-switching due to higher costs in this inflationary period."
Previously: 1010Data's Online Makeup Sales Data
Conversely, hair care grew 9.1% online, primarily driven by Olaplex, which grew 39.2% during the period, outpacing all other brands across segments. Not Your Mother's also boomed in the hair segment, rising 21% year-over-year.
Other online growth sectors included sun care (Supergoop alone saw sales jump 21% year-over-year), fragrance and nails.
Deep dive report: Generation #SunTok
Clean Brand & Retailer Performance
Top-growing brands included Peach Slices, Kristen Ess, Billie Eilish, Good Molecules, Toppik, Eva NYC and Coola.
Top declining brands included Drunk Elephant (-31%), bareMinerals (-18%) and Fresh (-40%).
Other leading decliners included Kylie Cosmetics, Dermalogica, Devacurl, SheaMoisture, Honest Beauty, Acure and Milk Makeup.
Among retailers, Sephora was down double digits online year-over-year, while Ulta online remained flat. Likely thanks in part to its Ulta partnership, Target grew in the sale of clean beauty products online.