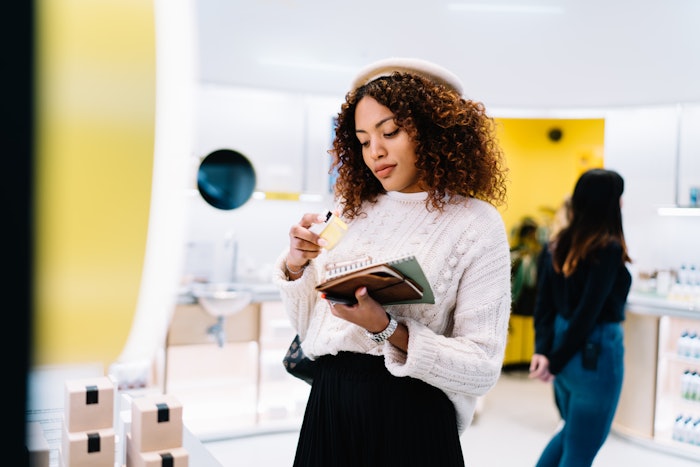 Q3 2022 U.S. prestige beauty sales revenue totaled $6 billion, a 15% increase compared to the same period of 2021, per The NPD Group. The growth rate is somewhat comparable to Q1 (19% year-over-year) and Q2 (16% year-over-year).
Makeup Sales
Q3 makeup sales have surpassed 2019 unit and dollar sales, growing 15% in Q3 2022 and totaling $2.1 billion.
Lip makeup was the fastest growing segment in the period, with sales revenue rising by 32%. One more example of the lipstick effect in action.
Skin Care Sales
Q3 prestige skin care sales grew 14% year-over-year, totaling $1.7 billion, driven by clinical brands once again, as well as natural skin care sales.
Physical retail drove sales gains, though the online channel reportedly accounts for almost 40% of sales.
Fragrance Sales
Q3 2022 prestige fragrance sales grew 11% year-over-year, totaling $1.3 billion, slower than the 18% and 13% growth witnessed in Q1 and Q2, respectively.
Average prices helped drive results and expanded faster than other beauty categories due to the popularity of  higher concentration products and higher price point luxury brands.
Brick-and-mortar sales account for more than 75% of U.S. prestige fragrance sales, though the online channel is growing, per NPD.
Hair Care Sales
Though its dollar value is relatively modest, hair care continued to post the fastest growth in prestige beauty in Q3 2022. Hair care sales totaled $853.8 million for the period, representing 23% year-over-year, a growth rate almost identical to Q2.   
Key drivers included products offering restoration and strengthening benefits.
Category sales online and in brick-and-mortar are almost evenly split, per NPD. In addition, the sector has actually reduced the number of units sold on promotion by 2 points.
The State of Prestige Beauty in Q3 2022
"Unit sales and revenue are both growing by double digits for beauty products sold in the prestige market, indicating that consumers are indulging in beauty products this year," said Larissa Jensen, beauty industry adviser, The NPD Group. "Fragrance sales will grow this holiday season, albeit slower than in years past, and makeup, skin care and hair care should also shine during the holidays, maintaining the strong sales performance these categories have experienced so far this year."