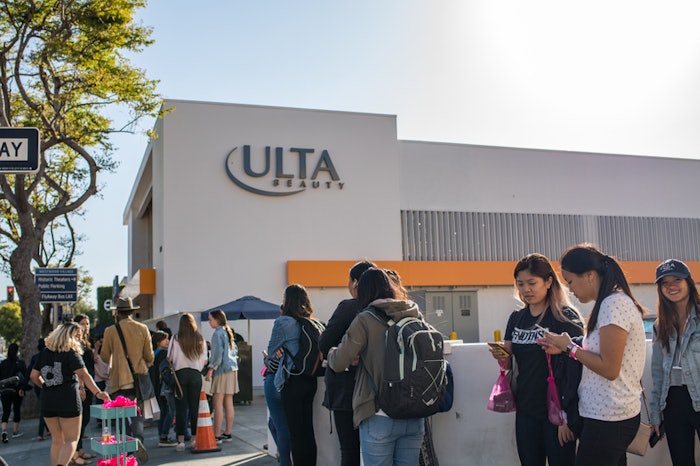 The grim state of the global economy hasn't hindered Ulta Beauty. The retailer has strengthened its foot traffic performance thanks to the lipstick effect, according to a report from foot traffic analytics firm Placer.ai.  
Following an already strong 2021, foot traffic to Ulta stores increased this year, with year-over-year monthly visits up every month of 2022 on both an overall and visits-per-venue basis (as of July), per the report.
Analysis: Ulta x Target & Sephora x Kohl's
The report credits the increase in visits to the phenomenon known as the lipstick effect, or the lipstick index. The lipstick effect posits that in times of economic stress, consumers will indulge in discretionary purchases that don't break the bank—like lipstick—because consumers consider beauty products to be an affordable luxury. The purchase provides comfort during uncertain economic times for those cash-strapped consumers.
Leonard Lauder, the former CEO of Estée Lauder, coined the term in the early 2000s to explain the influx of makeup sales during the recession.
Year-Over-Year Foot Traffic
Ulta has benefitted from this increased demand for beauty products. According to the Placer.ai report, monthly customer visits to Ulta stores are outpacing 2021 levels. Foot traffic increased every month in 2022. Most recently, visits to Ulta were up 6.6% in July and 12.6% in June, compared to the same period in 2021.
In addition to the lipstick effect, the report attributes Ulta's strong year-over-year foot traffic performance to people socializing again as face mask mandates and pandemic restrictions were lifted.
Customers who transitioned to online beauty shopping at the height of the COVID-19 pandemic have now made their way back to brick-and-mortar stores. Many shoppers still prefer to visit physical stores so they can see and try on products, according to the report.
Year-Over-Three-Year Foot Traffic
Ulta's foot traffic performance is particularly impressive when comparing current visits to pre-pandemic levels. Year-over-three-year overall monthly foot traffic to Ulta has been up by double digits every month since the beginning of 2022.
Visits per venue have also grown significantly. The report finds that visits in July 2022 increased 30.6% overall and 20.6% on a per-venue basis, compared to the same period three years ago.
Customer Loyalty, New Customers
In addition, the number of unique quarterly visitors and the share of returning quarterly visitors increased between the second quarter of 2019 and the second quarter of 2022.
The share of returning visitors at Ulta was 21.9% during the second quarter of 2022, up from 19.8% in the same period in 2019. Ulta saw 28.5 million unique visitors in the second quarter of 2022, compared to 22.8 million in the second quarter of 2019.
It indicates that Ulta is maintaining and increasing loyalty among its existing customers while attracting new visitors.
Ulta has been successful in reeling in new customers and retaining its existing ones because it continues to add new beauty brands to its roster. By diversifying its inventory, Ulta is able reach a wider variety of beauty customers, according to the report.
That customer loyalty means customers are also willing to drive further to visit Ulta stores despite this year's gas hikes. The data shows that the average true trade area for Ulta locations increased to 86.9 square miles in the second quarter of 2022 from 71.1 square miles in the second quarter of 2019.
The report also finds that a dip in household income is not preventing customers from shopping at Ulta. The median household income for Ulta's trade area in the second quarter of 2019 was $67,897, compared to the median household income of $65,078 in the second quarter of 2022.
The lipstick effect particularly comes into play here. Ulta's middle- and lower-income customers are likely feeling the inflationary pinch. While they are avoiding large costly purchases, they are willing to visit the beauty retailer for smaller, budget-friendly thrills, according to the report.