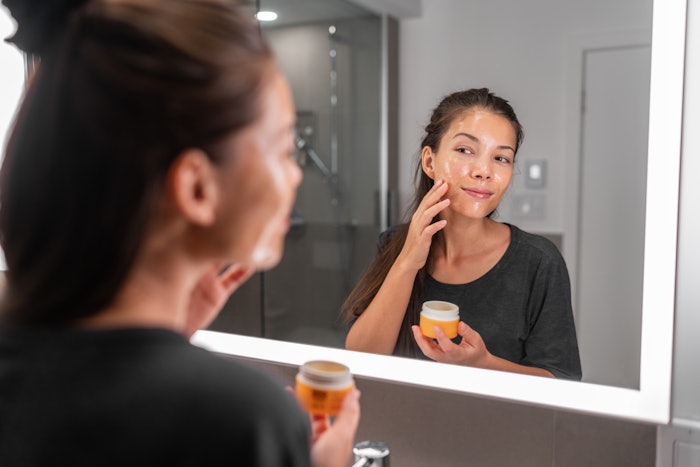 What are beauty and personal care brands looking to learn about their consumers, and what are those consumers telling them? Jebbit, a firm offering product quiz software for brands, has some answers.
Clients typically leverage Jebbit's platform to boost conversions, increase engagement and capture first-party data to enhance everything from the shopper experience to product development and beyond.
When it comes to brands, Jebbit reveals that key topics asked of shoppers include:
Skin tone, sensitivity and skin care regimes
Problem areas
Desired outcomes/goals from treatments/products
Attitudes toward the relative importance of price, purpose and quality
Products used most
Beauty consumer type: minimalist or maximalist

Retail habits

Sources of ideas and inspiration

Shopping occasions (gifts versus self-treating)
 On the other hand, consumers have plenty to say.
Consumers' Top Beauty Concerns
Based on Jebbit-backed polling, 55% of consumers say that damaged hair is one of their main hair concerns; therefore, they are looking for products that help them repair damaged hair, dryness and frizz.
Report: 7 Keys to the Hair Wellness Boom
Meanwhile, when it comes to skin care, consumers have three main concerns:
43% of consumers noted skin complexion as a skin concern and are looking for products to help them boost and clarify dull or uneven skin.

27% of consumers noted that dry skin is a concern and are looking for products to help them hydrate and moisturize.

17% of consumers are looking for anti-aging products that help with fine lines and wrinkles.
Consumers' Favorite Products
According to Jebbit survey data, makeup and skin care products account for about 48% of what shoppers are looking for in the beauty space.
Top-cited products include lip balms, foundations/concealers and moisturizers.
Consumers' Beauty Mindset
The survey platform has observed that consumers are trending toward minimalist approaches to beauty.
About 83% of consumers spend 5 minutes or less on their beauty routines, with only 2.5% spending 20 minutes or more.
This is reinforced by the makeup looks consumers are drawn to. Per Jebbit data, 54% of consumers prefer a natural look with just a slight pop of color.
Only 15% of consumers opt for a dramatic "the more, the better" look.
Consumers' Beauty Shopping Patterns
The current shopper journeys trends slightly toward self-care, or purchasing for oneself, with 55% of consumers saying that when they shop for beauty and cosmetics they are shopping for themselves.
The other 45% of consumers shopping for beauty products are shopping for others, with family, close friends and someone special being the top recipients.