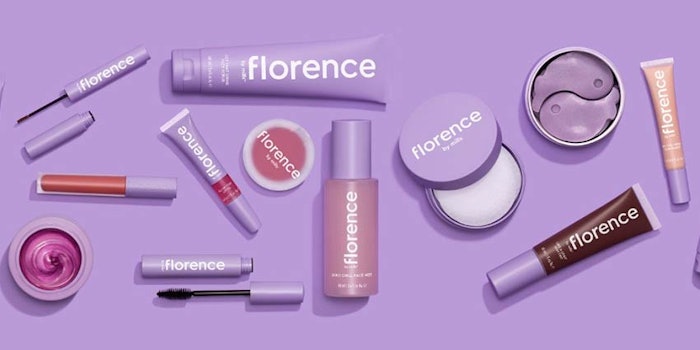 New research by Easy Vegan Recipes has revealed the 10 most popular vegan beauty brands on Instagram and TikTok based on followers, likes, views, comments, shares and overall engagement.
Each category was scored out of 10 to give the brands an overall score of 100.
Florence By Mills (70.1)
Rare Beauty (61.0)
r.e.m Beauty (49.5)
Elf Cosmetics (35.1)
Haus Labs (26.9)
Truly Beauty (25.2)
Milk Makeup (18.0)
Mecca Max (8.7)
Beauty Bay (7.7)
Pacifica Beauty (7.1)
Florence By Mills has 3.3 million followers on Instagram and another 3 million on TikTok. The brand averages 1,151 comments per Instagram post and a 0.22% comment rate on TikTok.
Rare Beauty has 3.1 million followers on TikTok and 3.1 million on Instagram. The brand averages 74,642 likes on Instagram. 
r.e.m. Beauty has 3.2 million followers across TikTok and Instagram and 17.77% TikTok engagement. 
Elf Cosmetics has 6.4 million Instagram followers and  928,000 TikTok followers. Additionally, the brand has a 10.68% engagement rate on TikTok.
Haus Labs' success across America has been partly attributed to it being the first significant beauty line to launch on Amazon exclusively. The beauty brand has almost 1.5 million followers across TikTok and Instagram. It has the highest comments rate on TikTok at 0.72%.
Truly Beauty's how-to videos are shared with more than 2.3 million followers on TikTok. Truly Beauty also has the highest number of TikTok likes on the list, with 62 million, which is 4.6 million more than Florence by Mills.
Milk Makeup has one of the smallest TikTok followings on the list, with 722,000 followers. Its share rate on TikTok share is 0.07%.
Mecca Max has a TikTok comments rate of 0.18%, which is a 126% higher than Rare Beauty.
Beauty Bay has an Instagram engagement rate of 0.13% and 1.9 million Instagram followers.
Pacifica Beauty has a combined 971,100 followers across TikTok and Instagram.