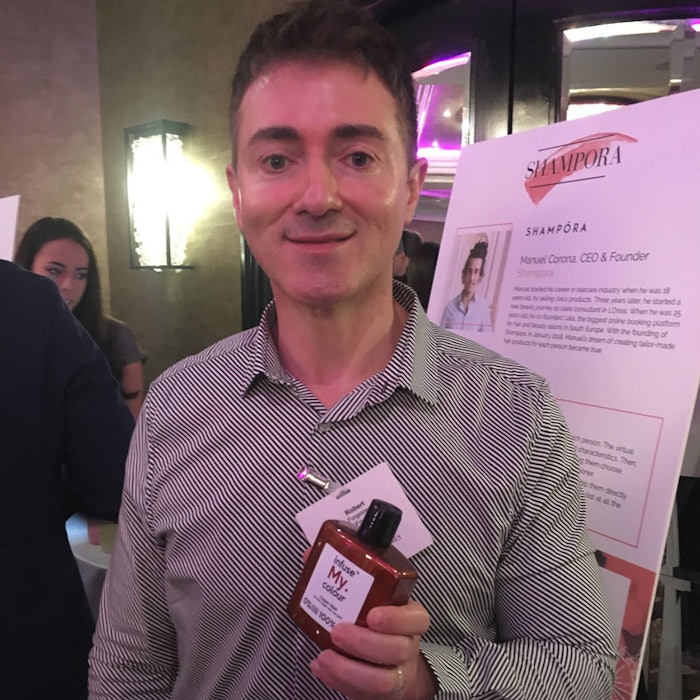 The market for independent (indie) beauty brands is seeing strong growth, said Evan Merali, director at M&A consultancy Financo, during opening remarks at the Beauty & Money Summit in London. The event, begun in the United States, allows investors and indie brands to get together under one roof and share experiences and insights from their own personal journeys, as well as meet potential investment partners in one-to-one private pre-scheduled meetings. As seen at earlier summits in New York and Los Angeles, a strong brand story and the chemistry between founder and investor were often cited as key to a successful partnership.
Fast Beauty to AI: Innovation on Display
Twelve indie companies were the finalists picked by a selected panel to take part in the Beauty Spotlight, presenting their companies in person and through short videos on the main summit stage. Innovations on display included sustainable and expert hair care, facial tracking and virtual makeup AI, digital sampling, natural skin care and makeup, from upstarts like Rouge Bunny Rouge, HoKaran, Shampora, Bad Norwegian, Cocunat, BYBI, Orbo, Sampler, Electric, My.Haircare, Be For Beauty and Dr Russo.
"To be part of the Beauty Spotlight was a great experience for Be for Beauty," said Be For Beauty's co-founder, Colette Newberry. "Showcasing our business model to lead beauty investors and retailers gave us a fantastic platform to highlight our vision of fast beauty and enabled us to have great follow up conversations throughout the event. Having only been trading for nine months, the beauty spotlight gave us some much exposure and helped us to network with other young businesses—so important when starting out."
Kim-Davy Hoeu of Scentbird, a previous Beauty Spotlight winner, described how her business has evolved since its founding. The company's model was built on the recognition of the different ways that people now shop for fragrance. According to Hoeu, a survey showed that 55% of grandmothers and 53% of mothers of millennials have a signature fragrance, compared to 3% of the millennials. At the same time, 1,200 new fragrances are launched each year in the United States. With loyalty decreasing, Scentbird offers personalized sampling for consumers to discover new fragrances. (Shoppers can only make repeat purchases once every six months.) Scentbird has now launched bath and body products.
Advice from the Front Lines: Brands & Investors
Two round-table sessions allowed investors and brands to share their advice and experiences. Merali chatted with Colin Welch of TSG Consumer Partners and Adam Minto and Tom Allsworth, co-founders of Makeup Revolution, about their partnership.
Investors can help founders think of the future by "always looking at what the business needs to be next," the panelists said—and they need good chemistry. The participants stressed the importance of having good quality people on your dream team, noting, "It's not just about you." At the same time, they encouraged founders to "trust your gut feelings" and check in with investors to continuously confirm that values are still aligned.
What should indie brands look for when choosing between strategic or financial buyers as investment partners? A roundtable comprising representatives of Unilever Prestige, Johnson & Johnson, Walgreens Boots Alliance, Manzanita Capital Inc. and Piper, and chaired by Ariel Ohana of Ohana & Co., provided a range of views on what investors look for in a founder and a brand and how they approach helping the business grow.
Again, there was a common thread of belief in the founder and the backstory of the brand, along with its "soul," authenticity, differentiation, trademarks, uniqueness and future potential. In addition, the investors noted that brands must fit with their current portfolio and offer reasonable potential for future performance.
Barbara Donoghue of Manzanita had a unique, slow-paced approach, compared to other investors, requiring close communication and taking a "long time to buy a company." It is important that the brand is "beautiful" and fits their narrow niche which is "not mass-market," she added. In some cases, Donoghue might even consider selling a company if it grows too big.
Here are some of the tips provided by the panel:
Dan Stern, Piper: "Clearly articulate your brand, be clear what you want and why, do your homework."

Ariel Ohana, Ohana: "Do due diligence and be prepared with questions."

Vasiliki Petrou, Unilever Prestige: "Share your purpose/essence, consider your social impact, values and legacy, [and] don't dress your company up for sale."

Anna Teal, Walgreen Boots Alliance: "Be clear on what you are looking for and where you are going; good advisors are needed."

Barbara Donoghue, Manzanita Capital: "Take a long view—it's not just money."

Carla Ruiz, Johnson & Johnson: "Make your business ready to go, tidy it up first."
Success & Differentiation
Media personality, Trinny Woodall shared her experience of creating her own brand, Trinny London, and going around to investors. "Stick to your values and someone will get it," she said. In her case, "personalization, portability and premium" were key to her concept of "360-degree beauty," as well as being a digital brand not sold in a traditional physical retail environment.
Woodall said her aim was to provide "not just another product," (her products are stackable) but something to "change the way that women do things." Social media has been instrumental in helping her build her brand organically through Instagram and Facebook. She spreads the word with the help of real people in the so-called "Trinny Tribes" around the world.
Marie Drago, whose Gallinée brand has secured investment from Unilever, claims to be "the first brand in Europe to talk about bacteria in a positive way," with its mix of probiotic, pre-biotic and lactic-acid-containing products to care for sensitive skin and its ecosystem, the microbiome. She described her journey from her Ph.D. thesis on the benefits of harnessing good bacteria to the currently increasing consumer interest in the microbiome, which led to the brand receiving an investment from Unilever Ventures.
"It is going to be a revolution in beauty," she said.
Helping Brands Connect with Consumers
Joel Palix, CEO of Feelunique, discussed the digital-native company's philosophy of "beauty without boundaries" and how its e-commerce platform can help indie brands, which account for 30% of its business. He argued that Feelunique can "help indie brands take the first steps, share data, accelerate brand expansion and help with future international expansion." The launch of a new shop of indie American brands is being announced soon.
The company started with just a price model, but now it is content-driven, he explained.  'This is what our customers are asking for', he said. 'The future is personalisation, with use of AI and chatbots, so the customer can see a different site, based on who you are'. In the UK, they are the market leader, competing with Boots for online sales. Currently the fastest growing market is Germany.  'Brands use Feelunique to communicate with their audience', he said.
The average customer basket contains three products for £60 (or roughly $79). Makeup is the biggest category of for Feelunique's 2.5 million customers, followed by skin care, hair care and fragrance. 65% of customers are under 35 and mostly women. These 'beauty explorers' want to discover new brands and are looking for 'an immersive experience'. This means a 'fresh take on story-telling'.
About half of the company's business is international, with China as its second largest market. To serve this burgeoning region, Feelunique has established a team that understands the local culture and its "different internet world" with shorter messages and content seen on mobiles. Customers there can buy through WeChat using the 'see it, like it, buy it' principle.
"Content is much more than editorial," Palix said, social media platforms have to be activated, referring to a 'social media pyramid'. He described different campaigns individually tailored for brands, including Anastasia, Charlotte Tilbury, Tom Ford and Sanoflore and also different retail approaches entering into the mix, such as pop up shops, product personalization, sampling, beauty boxes and pre-ordering.
Cutting Through the Social Media Clutter
Instagram provides millions of visual touch points between brands and consumers, leading more and more brands to adopt digital strategies. However, an increase in content creation has led to a decrease in engagement, claimed Danica Calderhead of Dash Hudson. In this highly competitive environment, less content with higher quality is desirable, she continued. It is often difficult to find and select the photos that will perform best for a brand, especially among all the available content. Dash Hudson's Vision concept identifies trends from visual intelligence to help brands select photos that will have the most impact.
On-demand Beauty
Using a similar business principle as Uber, Lauren Remington Platt launched Vênsette in 2011 to allow makeup and hair artist freelancers to connect with customers—corporate or individuals. Whether they are a celebrity in need of a look for an event or just want to look glamorous for a celebration, clients can book online easily and click on the looks they want. Pricing is $150-350 in four U.S. cities.
The verdict
"Europe's first Beauty and Money Summit was a huge success," said Stephanie Jaczniakowska-McGirr, conference director, Beauty & Money, Kisaco Research. "We received a record number of Beauty Spotlight applications, and all of the 12 finalists gave fantastic presentations; we've been inundated with amazing feedback from every corner of the market. We're looking forward to visiting New York again on September 27, for what we're sure will be another exciting time for indie brands and financial and strategic buyers alike. M&A in the beauty industry is not slowing down and I look forward to seeing new partnerships formed in London coming to fruition."
The next event will be held in New York on September 27, 2018. Please visit www.beautymoneysummit.com for more information.